FAIRFIELD, CT—One year after pledging to develop more energy-efficient products, General Electric Co. unveiled a product it is calling its most eco-friendly lighting source to date: the first-ever gasoline-electric hybrid lightbulb.
"With the price of gas escalating as its supply dwindles, now is the perfect time to introduce innovative lighting technology that only relies on this fast-depleting, nonrenewable resource for a portion of its power," GE chairman Jeff Immelt said in a statement released Monday.
This Week's Most Viral News: September 29, 2023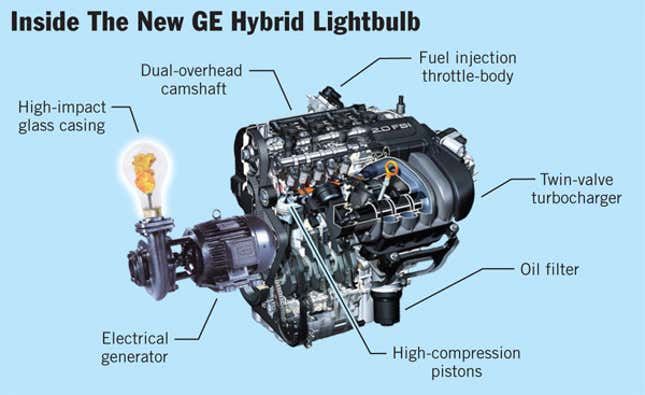 If the Wisebulb, which will be available in stores by November for the retail price of $89.99, is used only for recommended short-term, dim, and frequent on-and-off lighting, it could eliminate nearly 80 percent of global-warming pollution that would be caused by using solely gas-powered lightbulbs, GE spokesman Brian Tormey said.
"A full tank of gas can illuminate a hybrid bulb for an average of two weeks," Tormey said. "Once the 1.5-gallon tank is empty, all customers have to do is drive their lightbulb to the gas station and fill it up for only about $6."
The hybrid bulb's structure—slightly more complex than the older filament-and-wire models—features a small, efficient four-cylinder internal-combustion engine at the base of the bulb that powers an electric generator attached to the glass mount. The generator produces electricity that is then fed to the electric motor, which ignites a small flame inside the glass casing. Any excess electricity is used to charge the bulb's 300-volt lead-acid battery, which at full capacity is capable of independently lighting a 60-watt bulb for up to 30 minutes.
In order to prevent the bulb from overheating, carbon dioxide emitted from the flame will be released through the bulb's two-centimeter exhaust pipe.
In addition to regular fill-ups, Tormey added that twice-annual servicing of the bulb, which can include battery replacement and engine tune-up, will help ensure years of uninterrupted performance.
GE is already at work on enhancing the Wisebulb's features, including developing a larger 12-cylinder hybrid lightbulb for Americans who crave brighter, extended, higher-wattage illumination on a more frequent basis. Tormey also said that a special, lower-emission version with a catalytic converter, which uses additional energy to chemically convert a small percentage of the bulb's pollutants into harmless compounds, will also be made available, though consumers will be required to refill its gas tank at least twice daily.
By 2010, GE plans to convert all its home consumer products to the hybrid-energy model.
"Our Ecomagination division is fully committed to helping save the environment and preserve our remaining gas resources," Immelt said. "If the Wisebulb proves successful, it will pave the way for future advances such as the hybrid toaster, the diesel-electric vacuum cleaner, and the lower-emission, cleaner-burning dishwasher engine."
California residents who participated in a test run of the Wisebulb this summer are eager to make the permanent switch over to hybrid lighting, saying the extra expenses are "more than worth it."
"The extra $80 I spend on gas every week is a small price to pay to know that I'm conserving this valuable resource and helping save the environment," said Bakersfield, CA resident Marcia Epstein, who has also recently purchased a GE-brand hybrid air purifier to reduce the level of harmful toxins in her home.
"Plus, I'll save a few dollars on my electricity bill every month," Epstein added.
In its continuing mission to provide safe, clean, green-friendly products for Americans, GE is also investing heavily in research and development of additional alternative energy technology, including ethanol-fueled windmills, hydro-gas solar panels, and a lightbulb that would run entirely on electricity.