ORLANDO, FL—Tiger Woods' initial feelings of elation and redemption after winning the 2006 British Open—his first victory following the passing of his father Earl—began to sour when Woods started questioning the validity of his win, saying that it was "awfully convenient" that nobody posed a real threat to his tournament lead, and that he now believes the entire field let him win because he is still in mourning.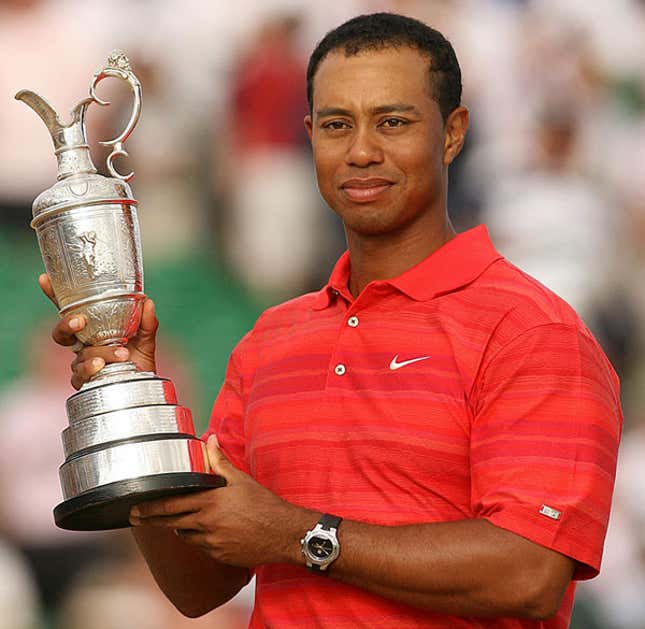 Ron DeSantis Announces He Will Live As Slave For One Year To Prove It Not Bad
"Phil Mickelson? Where the hell was Phil Mickelson the entire tournament? Am I really 13 shots better than Phil Mickelson?" Woods mused out loud. "And then Sergio [Garcia] shoots 29 on the front nine during the third round, yet in the round he is paired with me, he somehow shoots a 39? Come on, fellas, I know my dad died, but I don't want to win like this."
"When Sergio missed two short putts in a row, I thought maybe he was just intimidated by my presence, like in the old days when I was unshakable and my father was alive," Woods continued. "But, looking back, it's pretty clear that Sergio just felt sorry for me. Unbelievable."
Although PGA Tour officials have denied that Woods' fellow golfers threw the tournament in a deliberate attempt to lift his spirits, Woods cited Adam Scott's shot out of bounds on the 18th, good friend Mark O'Meara's five-over 77 on Saturday, and Nick Faldo's failure to even make the cut as "obvious examples of pity."
"Now it's as plain as day," Woods said. "Nick was clearly trying to atone for the negative comments he made about my swing several weeks before my dad died."
Added Woods: "I'm such a sucker."
According to Woods, the only golfer not playing to lose was fourth-place finisher Hideto Tanihara, whom nobody had heard of prior to the event and whom "probably wouldn't have been in the meeting everyone had while I wasn't looking."
After the event, Woods said he thought he had won his 11th major championship because of his ability to "think his way around the golf course," a quality his father used to say was of the utmost importance in winning golf tournaments—especially the British Open, where there are many different ways to play each hole. However, upon recalling his fellow golfers' poor play and their overly polite attitude toward him throughout the tournament, Woods said he feels his competition simply let him believe the strategy was working just to make him feel better.
The only player who legitimately challenged Woods during the final round was Chris DiMarco, whose mother died on July 4. Woods believes this to be in no way coincidental.
"I think Chris was in on it even though he also lost a parent," Woods said. "Maybe he wasn't at first, but he probably realized how much more heart-wrenching it is to lose a father than a mother right before he missed that easy birdie putt on the par-three 15th."
DiMarco called Woods' claim outrageous, and said that he was actually closer to his mother than his father, to which Woods responded, "Hell, if my mother had died, I would have won the U.S. Open by 10 strokes instead of missing the cut."
Though all the players in the field have stated flatly that Woods' accusations couldn't be further from the truth, maintaining that they were defeated because Woods is simply a superior golfer, an unconvinced Woods said that in order to get back on the winning track, he and his swing coach Hank Haney will just have to work harder.
"Tiger was on the range last night until 4 a.m. trying desperately to get his swing back to where it was before his father passed away," Haney said. "Quite frankly, I haven't really noticed a difference. I thought it looked pretty good last week."
Although Woods continues to insist he "never wanted to win like this, and [hopes] never to win this way again," his infamous hyper-competitive streak showed itself again later that day.
"I want my fellow competitors to know that I do not and never will support their decision to let me win the British Open because of my grief over my father's death," Woods said. "If, say, my wife were to have a tragic fatal accident right before next year's Masters, well, that's another story."