Icelandic Ogress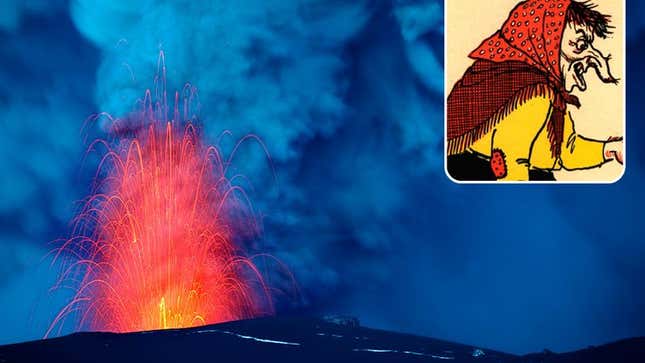 No one had as much effect on air travel in 2010 as the horrifying Icelandic mountain ogress Grýla, who this spring launched a plume of ash 30,000 feet into the sky from the Eyjafjallajökull volcano, shutting down airports across Europe and costing the global economy hundreds of millions of dollars.
The eruption was initially attributed to Huldufólk elves believed to be angry at mortals for the desecration of their rock dwellings during the winter of 2009. While gifts of sweets to the elves seemed to produce small gaps in the ash that allowed airspace to be briefly reopened, the cloud as a whole lingered. It was only after millions of travelers had already spent days stranded at airports that embarrassed officials finally conceded that another creature was probably responsible.
After ruling out the 300-foot Lagarfljóts worm, investigators concluded that only Grýla—best known for emerging from her cave at Christmastime in search of naughty children to stuff in a sack—possessed the power necessary to generate an eruption of Eyjafjallajökull's magnitude. By then, however, many food items shipped by air had begun to spoil, and a number of world leaders had already missed the funeral of Polish president Lech Kaczyński.
After frustrating weary travelers with numerous ineffective attempts to placate the ogress, Icelandic officials finally carved a fear rune onto an oak plate and threw it at her feet, an obvious banishment spell that critics worldwide said the government should have cast much sooner. Flights resumed within hours.
In the aftermath of Eyjafjallajökull's eruption, officials said they would continue monitoring Grýla and, as a precaution, all 13 of her hideous children.