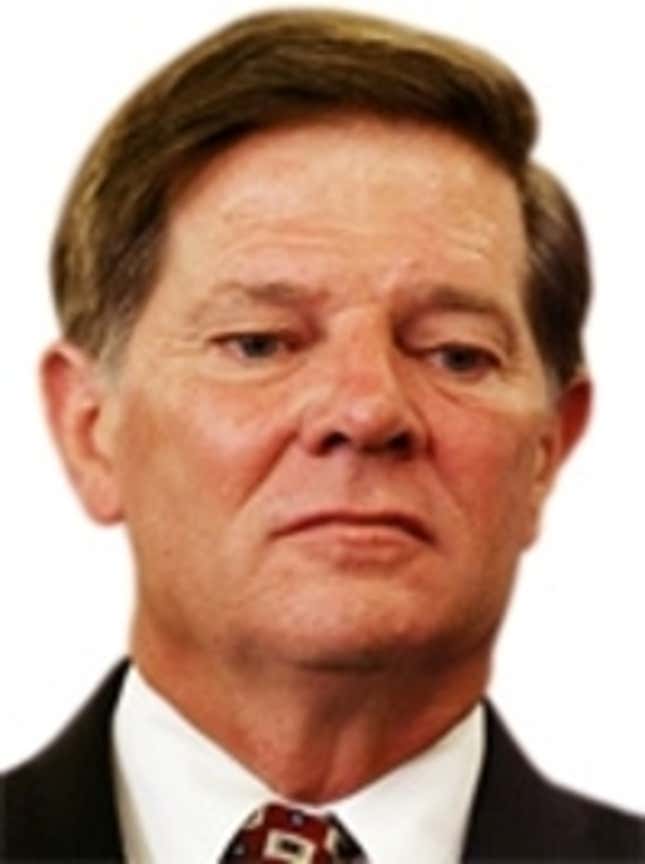 Damn it! What did I tell you kids?
Yeah, I'm talking to you, you little hippie freaks. Didn't I tell you to stop messing around on the Capitol lawn? Don't act like you didn't hear me when I stuck my head out the window earlier. I saw you look up. I saw you laughing. Punks! I told you to clear out and take your games somewhere else. Then, not 15 minutes later, this thing sails right through the window and interrupts deliberations of the House Committee on Ways and Means.
Oh yeah? Is that so? Well, guess what. It's Tom DeLay's Frisbee now.
No, I'm not going to "toss it back," and don't call me "dude." Very important people are trying to legislate in here. No, you come on. I warned you, but you had to push it. Now you face the consequences.
Don't tell me the Washington Mall is the official property of the people of the United States. I am Washington! That's right… keep talking. You can talk until you're blue in the face for all I care—it's not going to get you this Frisbee back. I'm taking it home with me. Danielle is going to love it.
Against the law? Pfft. I don't need some smart-aleck, Frisbee-tossing kids to tell me about the law. I'm Tom DeLay, the House majority leader. Who are you? I've been wheeling and dealing in this town longer than you bastards have been eating solid food. I was elected to a seat in the Texas State House in 1978. That's right, 1978! I was House majority whip in 1994. And now, in 2005, I have the Frisbee and there's nothing you can do about it.
Okay, you really want this Frisbee? Well, why don't you come over and try taking it out of my hands? I'm standing right here. What's the matter? Come on. Tom DeLay is waiting.
No, I'm not throwing it back and, no, I'm not joking. I told you before. It's mine, and that's that. Take my advice: Get out of here before I call the Department of Homeland Security and have you all deported to an international zone where the Geneva Convention rules don't apply. Now, if you'll excuse me, I'll return my attention to the Enhanced Energy Infrastructure and Technology Tax Act of 2005 and thereby protect undeserving snots like you from natural-gas price fluctuations. Good day.
Ouch! Damn it! Okay, which one of you brats bounced the Hacky Sack off the back of my head? Yeah, that's right, laugh it up. But look who got himself a new Hacky Sack. That's right, I'm keeping the Hacky Sack, too. Who's laughing now, you little smartasses?
What? You're gonna call the House Ethics Committee on me? You think the House Ethics Committee scares Tom DeLay? Go ahead and call them. I'll dial the phone number for you. I've got it on speed dial. That committee's come after me plenty of times before, and you know what happened? Nothing! While you're at it, call the Washington Post. Maybe they'll do a human-interest piece about the poor kids who lost a Frisbee and a Hacky Sack all in one day.
Call for an independent investigation! Demand my resignation! See what good it does you. I've faced a hell of a lot worse opposition than you, and I'm still standing. You hear me? Tom DeLay is still here! I am Tom DeLay!
Yeah, you'd better run. Punks.