DALLAS–At a press conference Monday, Haggar physicists announced the successful development of "Quantum Slacks," attractive, wrinkle-free pants that paradoxically behave like both formal and casual wear.
"With this breakthrough, pants enter a whole new dimension," said Dr. Daniel Chang, head of the Haggar team. "Conventional notions about the properties and possibilities of slacks have been completely turned on their head."
Though long dreamed of by theoretical physicists and science-fiction authors, the quantum slacks represent the first wearable pair of non-Newtonian pants, putting America one step closer to a complete casual wardrobe that transcends classical physics.
"For decades, we conducted level-one physics experiments in which we collided individual subatomic particles in a highly controlled laboratory setting," Chang said. "But an array of technical hurdles kept us from taking the next logical step: colliding pants."
Preliminary tests conducted last month at the Haggar Pants Propulsion Laboratory in Dallas indicate that the quantum slacks, generated by smashing together two larger sizes of slacks at near-light speeds, defy scientific explanation.
G/O Media may get a commission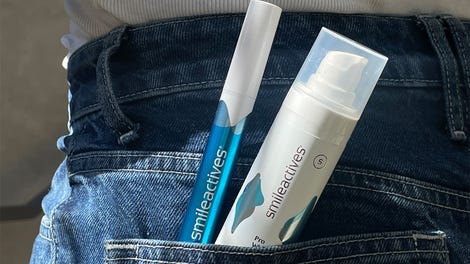 58% off
Whitening Powerhouse Pen & Gel Duo
Said Chang: "We placed the pants in a casual lawn-party setting and discovered them to be functional and comfortable. But, against all logic, in subsequent tests the pants performed equally well at a formal business luncheon. This represents a baffling, 'Schrödinger's Pants' duality. The results even fly in the face of Einstein, who preferred wool trousers."
Subsequent experiments yielded even more puzzling results.
"We have attempted to measure the exact dimensions of these counterintuitive slacks, if only to know what rack to store them on," Haggar physicist Dr. Mattias Kohl said. "But we've learned, to our dismay, that if we measure length, we lose sight of waist size and vice versa. These slacks defy all traditional means of measurement."
Added Kohl: "Additional study and data-gathering is proceeding at a slow pace, as the pants have a strange tendency to vanish and reappear elsewhere. Understanding and harnessing this trait is essential before we can find a way to distribute the slacks to stores."
More exciting, Kohl said, is the potential for gaining insight into the very origin of trousers itself–a breakthrough he described as "within walking distance."
"Scientific law holds that any given piece of clothing becomes less fashionable over time," Kohl said. "However, at the quantum level, we have found that certain styles of Haggar slacks actually grow more fashionable, suggesting the existence of 'slachyons,' theoretical pants that travel backward in time."
According to Chang, just as Einstein showed matter, energy, and pants to be essentially the same, the Haggar team may soon prove that space, time, and fashion are bound together as unified elements of the cosmos.
"If we can stabilize a pair of these slacks long enough for in-depth study, perhaps by confining them in a radiation belt powerful enough to stop them from slipping into other dimensions, we have a good shot at proving our theory," Chang said.
The only danger, he noted, is the prospect of creating anti-pants. This would derail the experiment by annihilating any pants the original pair comes into contact with, leaving only nude space.
"Further," Chang cautioned, "if these slacks do, in fact, travel through time, we risk altering the history of slacks and endangering the present state of comfortable, affordable dailywear. This could potentially collapse the probability weave and create a 'casual loop' from which we might never escape."
But, dangers notwithstanding, the Haggar physicists remain optimistic.
"Mankind's knowledge of pants technology has been advanced immeasurably," Kohl said. "We cannot overstate the revolutionary nature of this breakthrough. We are on the verge of unzipping the secrets of creation and peering into the pants of God Himself. We are about to discover the very fabric of the universe, and it appears to be a smart cotton-twill weave."