WASHINGTON—More than a year and a half after the conflict began, Americans across the country confirmed Monday that, having come this far without displaying any discernible interest whatsoever in the ongoing uprising in Syria, they are now determined to "finish the job."
Despite recent reports of increasingly rampant acts of violence carried out by President Bashar al-Assad's forces, millions in the United States reportedly remain totally dedicated to ignoring the plight of Syria's 22 million residents and will continue to do so until the task is complete.
"I've gone almost two full years without paying any attention to Syria, and by God, I'm sure as hell not about to start now," said Denver-based computer scientist Jake Lingard, explaining that whenever he sees an article about the war-torn country on the Internet, he immediately navigates to a different website. "I made a commitment when this whole thing started to completely ignore stories about thousands of innocent people being massacred in their homes by their own government, and I intend to make good on that commitment."
"Hell, I made it this far," Lingard added. "Might as well go all the way with it."
Having already shown nothing but total apathy toward estimates of Syrian casualties that now exceed 25,000, many Americans stressed their determination to "stay strong and remain inattentive" in the face of news that more than 400,000 Syrians have been forced to flee their country and roughly 2.5 million people are in desperate need of humanitarian aid.
G/O Media may get a commission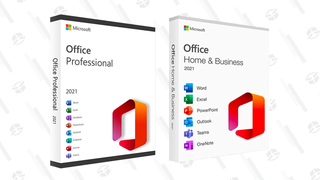 89% off
Microsoft Office Professional 2021 Lifetime License
The U.S. populace also proudly confirmed that it "still hasn't caved in" after reading headlines about the discovery of mass graves containing dozens of dead civilians, or news of air strikes hitting Syrian schools, hospitals, and residential buildings. Many said that even reports of pro-regime militias burning entire towns to the ground have yet to impact their steadfast conviction to never show a shred of sympathy toward the widespread suffering of Syrians.
"I'm in this thing for the long haul—you really think I'm going to let a few hundred more horrific and unconscionable events rouse me to action?" said 41-year-old financial analyst Ryan Porter, explaining that he will persevere with his disinterest regardless of how dire the crisis becomes. "Let me put it this way: If they get democracy or whatever it is they're fighting for, I'm not going to care. If they fail, and there's a nationwide genocide in the process, I'm not going to care. Frankly, if the entire country simply ceased to exist tomorrow, I still wouldn't care."
"That's the choice I've made, and I'm sticking to it," Porter continued. "Even if every single one of them ends up dead."
According to a recent poll, 85 percent of Americans said they actually care less about Syria now than they did at the outset of the country's antigovernment protests; 57 percent admitted to almost caring after they learned of the systematic rape of thousands of Syrian women by troops, but said they "were still going to see this whole not-caring thing through"; and 30 percent said that while they acknowledge the conflict is a major human rights issue, they will forge ahead with their cold-blooded lack of compassion purely for the sake of consistency, and also because they "honestly and truly don't give a shit."
Moreover, when presented with reports that thousands of Syrian children are being abducted, imprisoned, tortured, and starved to death, 55 percent of survey respondents silently shrugged their shoulders, while the remaining 45 percent reportedly turned around and quickly walked away.
"I know literally nothing about this situation, and I intend on keeping it that way," 29-year-old Rockford, IL resident Daniel Greene said. "I don't know what they're fighting over; I don't know the name of the Syrian president or prime minister or whoever that guy is; I don't know what the people fighting him want; I don't know what an Arab Spring is, nor do I want to; and to be honest, I don't even know where Syria is. It's in the Middle East, right?"
"Actually, never mind," Greene quickly added. "I don't really give a shit."
At press time, sources confirmed that millions of readers skipped past this story immediately after seeing the word "Syria" in the headline.