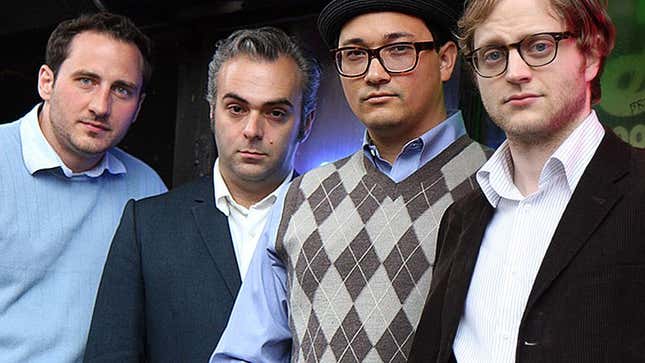 COLUMBIA, MO—After walking off stage to a chorus of boos, threats, and obscenities, local Christian rock band Enter the Kingdom told reporters Friday that they now knew exactly how Jesus felt when he was persecuted.
This Week's Most Viral News: September 29, 2023
"We were always taught that Christ suffered for the sins of man, but it wasn't until our gig at Pat's Tavern that we actually understood what that meant," said lead singer Andrew Walker, who formed the band in 2006 with three friends from his Bible study group. "The fact that Jesus wasn't very popular in his day, or that people hated him for spreading a different kind of message, or even just the ridicule and humiliation he was forced to endure—it all became clear to us Friday night."
"Especially when the crowd started chucking food at our heads," Walker continued. "That definitely hit it home."
According band members, the trials and tribulations of the Son of God were brought into sharp focus during their 45-minute music set, from the widespread skepticism they encountered after first taking the stage to the cries for physical torture that filled the local tavern by the end of the night.
Bass player Kevin Clark, 26, compared Friday night's harrowing show to "what Jesus must have braved" at the hands of Pontius Pilate, claiming that while performing he also faced a series of false accusations, including being called the "King of the Dickheads" by one crowd member.
"It was like the story of Jesus, unfolding right up there on that stage," said Clark, adding that two police officers randomly checking IDs for underage drinkers also joined in and taunted the band. "And just like Christ, we did not retaliate for their cruel actions. Not even when the whole 'get off the stage, you pussies' thing really got going."
Enter the Kingdom's guitarist, Bradley Baldwin, was likewise stunned by the similarities between his band's set and the torment of his savior, likening the constant interruptions by hecklers screaming, "Shut the fuck up," "This sounds like fucking shit," and "Don't quit your day job blowing priests" to what Jesus went through while being mercilessly flogged and whipped as he carried the cross to Calvary.
"They were jealous and punishing us for our righteousness, because they couldn't face the power and truth of our songs 'Light Of The Lord' and 'The Exalted,'" Baldwin said. "Plus, they definitely committed the sin of covetousness when they tried to grab Kevin's bass right out of his hands during 'Glorious Salvation.'"
Drummer James Mayfield drew a number of parallels between Jesus of Nazareth and the band, telling reporters that both only had about 12 followers and that both were betrayed by their closest friends.
"I'll never forget how our buddy Pete pretended he didn't even know us," Mayfield said. "He was standing next to these two really cute girls, and when we asked him what he thought of our set, he just looked at us and totally denied ever liking our music."
Added Mayfield, "Pete was our No. 1 fan."
Despite the cold and sometimes borderline violent reception, all was not lost Friday night. According to band members, a number of devotees from all walks of life were quite moved by the performance. Some in attendance told reporters they would be sure to attend every future Enter the Kingdom show.
"Dude, that was the most fun I've had in a long time," said Barry Rouse, 28. "I can't wait to see these fucking losers again. I'm going to all their lame-ass shows."