DES MOINES, IOWA—After years spent in and out of hospitals, warehouses, and office buildings consumed by fire, Lieutenant Anthony Castillo, 46, finally succumbed to the combustion he had so bravely battled during most of his adult life, sources close to the deceased hero said Monday.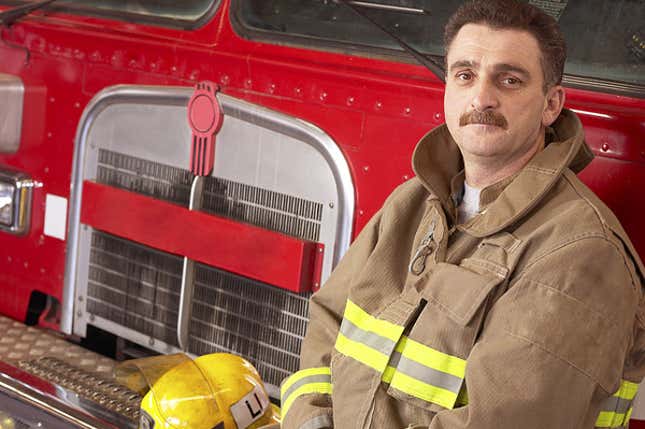 This Week's Most Viral News: September 29, 2023
Castillo, who over the years had become a symbol of courage to countless individuals faced with their own deadly blazes, passed away early Sunday morning at a suburban home, surrounded by family members, neighbors, fellow firefighters, and raging, crackling flames.
"Anthony fought every day with honor and dignity, beating fire after fire, against all hope, back into remission," said wife Barbara Castillo, who told reporters she will always remember Anthony as the loving father of their three children, and not the "burned-out shell of a man" he became during the last moments of his life.
From the onset of those first frightening symptoms, which included 3,000-degree temperatures, prolonged coughing spasms, and night sweats that soaked through his heavy polysynthetic firefighter's coat, to his last dying breath of toxic hydrocarbons, "never once did my husband complain," said Castillo's widow.
"Even at the end, Anthony was a bright, shining light of strength, a true hero who burned with an intensity and determination we will never forget," she added. "I can't believe he's gone."
The fire that ultimately took Castillo's life—the result of a rare form of electrical shortage—is now believed to have started in a three-story Cape Cod–style home's basement, before spreading quickly to the kitchen, living room, and principal hallways. By the time the full-blown inferno had been detected, there was little anyone could do.
"Dad had gone through some serious scares, but he always managed to pull through," said eldest son Brian Castillo, who remembers his father being rushed from their home in countless emergencies growing up. "We all knew that a serious blaze could flare up at any moment, but he had been doing so well these last few months. It's still a shock."
Castillo's death also shocked his fellow firefighters, many of whom had seen him animated and full of life just moments before.
According to Engine Company 2 Commander Robert Penderbelt, Castillo spent the last months of his life educating people as best he could about fire prevention.
"While there were times when Anthony was obviously in a great deal of pain, I never once saw it stop him from trying to help others," Penderbelt said. "When Anthony lost his hair to a series of grueling chemical fires last year, we feared the worst, but he was back at it the next week like nothing had happened."
Castillo's remains were scattered in an unplanned public ceremony late Sunday afternoon, moments after the wind picked up.