NORCROSS, GA—Patricia Welch is lucky to be alive. Just days ago, the 37-year-old human-resources specialist lay helpless and bleeding on the brink of death, the victim of a freak accident in her own home. But the story gets even stranger: Welch owes her life to one brave but unlikely companion, who remarkably managed to dial 911 just in time.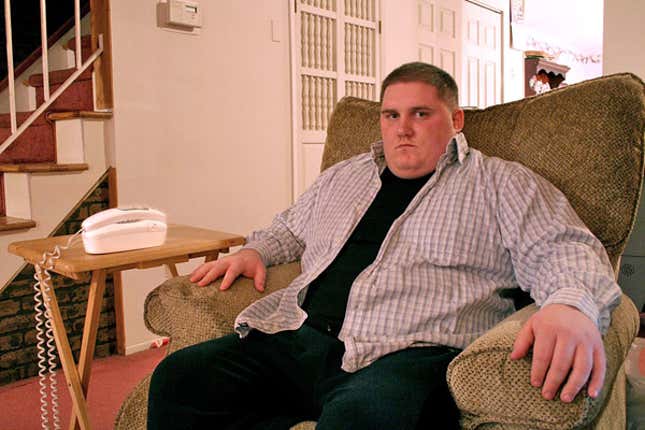 CDC Issues Dire Warning That Nick Cannon Is Feeling Horny
According to Welch, Tony, her 36-year-old husband and "best friend," jumped to action after a loud crash Sunday woke him from a mid-afternoon nap on his favorite spot on the couch. Running through the house, he eventually came upon Welch, who was pinned beneath a collapsed wooden shelf used to store canned foods and nearly unconscious. He immediately sensed that she was in trouble and, amazingly, headed directly for the upstairs kitchen phone.
"He must have somehow knocked the phone off its cradle," said Welch, ruffling Tony's hair as the two sat in their living room. "I guess he just did it out of instinct."
Tony's actions astonished even seasoned emergency personnel at the 911 call center.
"At first, I thought it was some kind of practical joke," said dispatcher Wanda Emerson, who fielded the call. "All I could hear was some panting and the occasional whimper. But then it occurred to me that he was actually trying to communicate with us."
Emerson said that Tony remained on the line long enough for her to trace the address and dispatch emergency medical technicians. She also believes he somehow understood her instructions to return to the basement and wait patiently by Welch's side until help could arrive.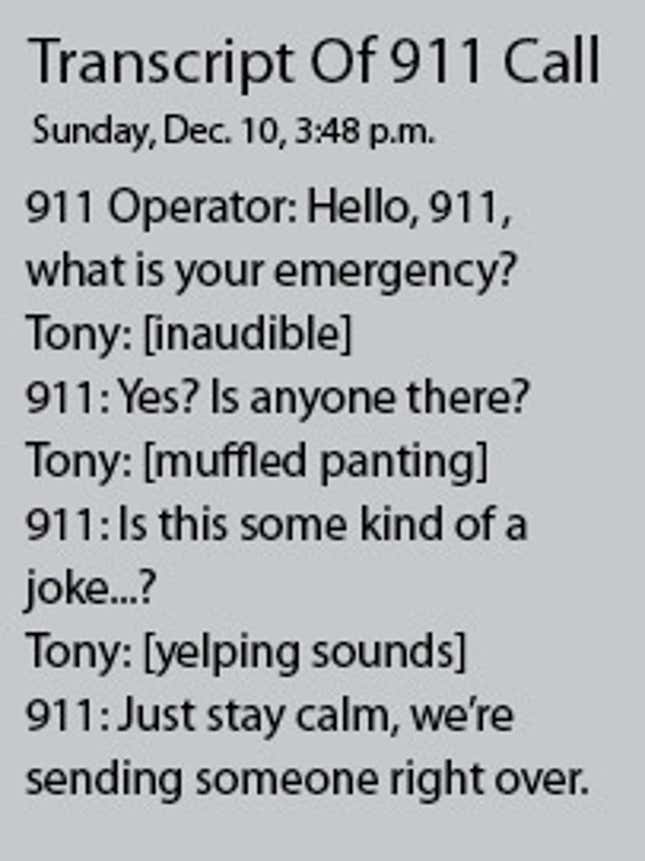 "His loyalty was, literally, a lifesaver," Emerson said.
When EMTs arrived on the scene minutes after his call, Tony emerged, barking orders and other vital information to the stunned medical personnel, including six-year veteran Noah Archibald.
"He looked extremely excited, and we could hardly keep up with him as he led us downstairs to [Mrs. Welch]," Archibald said. "He had even fetched her a little blanket. It was as if he could tell how serious the situation was, and really wanted her to live."
Emory University behavioral psychologist Janice Applebaum said that, while rare, similar situations have occurred in the past.
"Men will occasionally perform beyond what we would expect in times of crisis due to a primal urge to protect their loved ones," Applebaum said. "Often it's a simple matter of adrenaline temporarily taking over."
"But I woudn't be surprised if Tony was back on the sofa in no time, as if nothing had ever happened," she added.
Welch said that she had never seen Tony dial 911 before, and speculated that he must have been imitating behavior he had seen elsewhere—perhaps even on television.
Whatever the explanation, Patricia Welch is thankful for the noble act. "Finding Tony has greatly enhanced my life, but I never thought he'd end up saving it someday," Welch said. "I'll tell you another thing: As soon as I get home, somebody very special is getting a nice, juicy piece of steak."