NORFOLK, VA—In what has been dubbed the most "devastating and brutal siege in the history of animal-rights activism," an elite, paramilitary squad of commandos from People For The Ethical Treatment Of Animals (PETA) attacked and killed 49 employees at Couture Cosmetics' Norfolk, VA, research facility while saving a rabbit during a daring midnight raid Monday.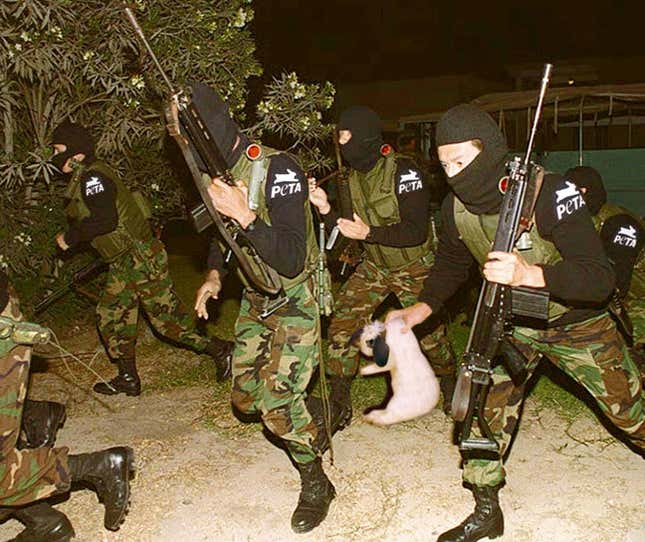 "Never in my life, not even during my tour of duty in Korea, have I seen such carnage," tearstruck Couture CEO Herman Frankel said, surveying the carnage. "My God, what will I tell the families of the victims of this massacre?"
According to the handful of survivors of the raid, Couture workers were first immobilized by gunshot wounds to the knees before being shot execution-style in the back of the head. PETA officials assured that no animals were harmed during the destruction of the complex.
The rabbit, a floppy-eared, speckled gray longhair with an adorable pink nose, was being used by Couture as part of an eyeshadow-allergy research project at the time of the rescue.
"Look at the cute bunny," said PETA commando Shirley "No Mercy" Dorn, a Norfolk-area petcare volunteer and leader of the PETA strike force. Lovingly cradling the rescued rabbit as she walked past the charred and dismembered bodies of its captors, she added, "Look at his nose! Look at his nose!"
In addition to the 49 executed, some 150 other animal researchers were savagely beaten. "They're lucky they escaped with their lives," PETA field marshall Donna "Skull" Saunders said. "Those who survived with only severed limbs got off too easily. They were probably putting itchy-powder in Flopsy's big, beautiful eyes."
Adressing the rabbit, Saunders continued: "Who's got a little powder-puff tail? Who? Who? Oh, yes, you do! Oh, yes, you have a furry little puffy-tail!"
She then fed the rabbit a carrot, causing its adorable pink nose to wiggle up and down, up and down as it chewed, making cute little chewy-faces.
In a statement released Tuesday, Couture Cosmetics maintained that, though the rabbit in question was being used for research purposes, the company has adhered to a strict "cruelty-free" policy since 1992, and that the rabbit was "at no time subjected to any pain or discomfort."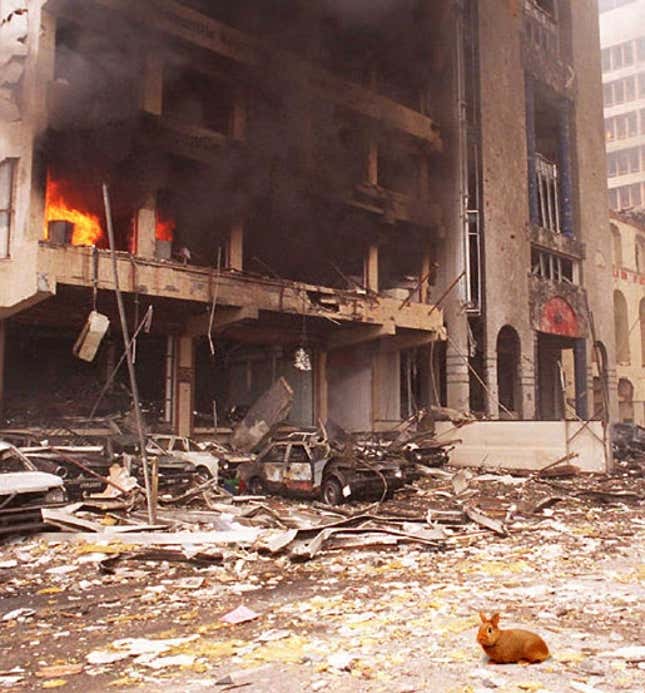 "That old line? Don't try handing us that," Saunders said in response. "Those filthy barbarians probably were sticking Mr. Bunny with needles and all sorts of things. They were human garbage who got exactly what they deserved: swift, merciless extermination at the hands of trained professionals." Turning her attention to the rabbit, she added, "Didn't they? Didn't they?"
In addition to liberating the rabbit, PETA commandos seized an office-cubicle plaque with a picture of a panda bear and the words, "I Hate Mondays."
"Look at Mr. Panda-Tummy," PETA operative Warren "Death's Head" Pleth said, holding the plaque. "Look at Mr. Fatty-Fat Panda Man."
An attempt by the families of the Couture Cosmetics victims to bury their loved ones was met with equally savage resistance from PETA commandos, who strafed the mass funeral procession with machine-gun fire before spraying the cemetery with explosive flaming phosphorous gel, scattering the assembled mourners and killing seven.
"The holes they were digging in the ground threatened to disturb the habitat of a native population of moles," an official PETA statement read, "Moley moley, mole mole. Are you a little digger? Oh, yes, you are!"
On Tuesday, PETA officials supervised the rabbit's release back into the wild where, within minutes, it was chased down, torn to pieces and fully devoured by a fox.
Despite the extreme cruelty of the fox attack, PETA officials have no plans to take action against the animal. "Foxes are lovable furry forest friends," PETA president Joy MacInnis said. "Not like the hairless, human, animal-hating scum who so richly deserve to get their skulls smashed in with the back end of an automatic weapon."