WASHINGTON—Stating that he had been informed of "a certain problem that needs solving," a high-powered Washington fixer reportedly entered the White House at 11:35 p.m. Wednesday and told a blood-spattered President Obama to listen to what he said and listen very carefully.
"I'm here to help, Mr. President, but if we're going to get you out of this mess in one piece, you need to do exactly what I tell you to do," the gruff 58-year-old fixer is said to have told Obama as the president sat muttering to himself and staring at the blood on his hands. "So shut the fuck up and listen. The guy in charge right now is me and me alone. Got it?"
"Now, show me where it happened," he added, slipping on a pair of latex gloves.
The fixer, who wore a black suit and tie and carried a briefcase, pulled up to the White House in a black 1973 Oldsmobile, an anonymous source said, arriving exactly 20 minutes after he was contacted by an unknown individual within the executive residence.
Conducting himself in a curt but professional manner, the fixer reportedly instructed a shocked and trembling Obama to break his cell phone in half, scrubbed every trace of bodily fluids and human tissues from the carpet in the Lincoln Bedroom, and then placed the chief executive's watch and other personal effects into a Ziploc bag for disposal.
"Go into the bathroom, strip off your clothes, and take a shower right now," the fixer said as he eyed the president's bloodied dress shirt. "When you get out, you'll find a change of clothes hanging on the door. You need to do this immediately, do you understand me?"
G/O Media may get a commission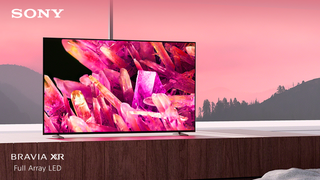 $400 off
Sony 55 Inch 4K Ultra HD TV X90K Series
"Say it," the fixer added, curtly. "Say you understand me."
According to sources, the fixer repeatedly pressed Obama for precise details, including the president's exact whereabouts during the night, whether the screams would have been audible in the hallway, if anyone had seen the president entering or exiting the premises, and why there was a single blood-flecked molar resting on an ornately carved Victorian table purchased in 1861 by Mary Todd Lincoln.
"Listen to me—listen to me," the fixer said as the wide-eyed Nobel Peace Prize winner stared blankly at a framed copy of the Constitution on the wall of his private sitting room. "Is there anything else you're not telling me? Anything at all? I don't want any fucking surprises here."
Over the course of his 45-minute visit, the fixer reportedly doctored numerous entries in the White House visitors log, contacted a handful of acquaintances who "know how to get certain things done," and made several discreet trips out the South Portico to place bulging heavy-duty plastic bags in his trunk.
Sources indicated the fixer also intensively coached Obama on how to respond if questioned by authorities, emphasizing that once he left, the president would not be able to see him or get in touch with him.
"Here's your story: You were working on climate policy in the White House Library with [U.S. Energy Secretary Ernest] Moniz—now, don't worry, he'll play along," the fixer said as he ripped down the president's blood-caked shower curtain. "At exactly 9:25 p.m., you went for a walk in the Rose Garden to clear your head, and, this is very important, you did it alone. Are you following me?"
Reports confirmed that after Obama nodded in the affirmative, the fixer made the president repeat the whole story back to him.
At one point, when the fixer asked, "Does [First Lady Michelle Obama] know?" the president reportedly became so overwhelmed he began to sob.
"Hey…hey!" said the fixer, slapping Obama across the face and telling him to pull it together. "You think you're the first president I've had to deal with? Listen, if you lose your head right now, you are through—you understand me? You'll lose all of this. Your position. Your family. Everything. You want the entire nation to see you on cable news being dragged across the White House lawn in cuffs?"
"Because if that's the case, Mr. President, I can leave right now," the fixer added. "No? Then get in the fucking shower, pronto."
Though the fixer's identity remains a mystery, at press time sources had confirmed he was an "old buddy" of Vice President Joseph Biden.