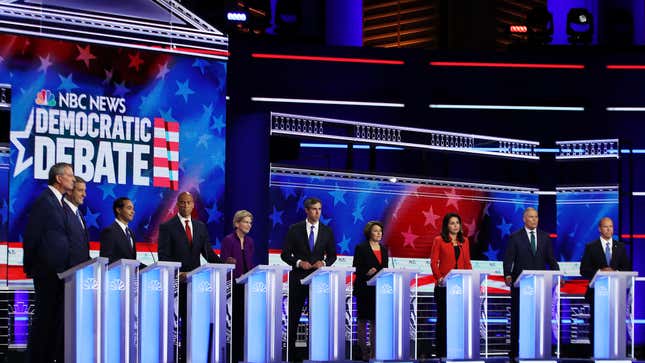 On Wednesday night in Miami, Democratic presidential candidates Cory Booker, Julian Castro, Bill de Blasio, John Delaney, Tulsi Gabbard, Jay Inslee, Amy Klobuchar, Beto O'Rourke, Tim Ryan, and Elizabeth Warren participated in the first of two nights of the party's initial primary debates. The Onion highlights the most important moments of day one of the Democratic primary debates.
CDC Issues Dire Warning That Nick Cannon Is Feeling Horny
---
In a blatant display of liberal bias MSNBC features 10 Democratic candidates and not a single Republican.

---
Viewers got a chance to hear what the candidates will interrupt like as president.

---
Miraculous fundraising emails sent by candidates even as they spoke onstage.

---
Second hour of the debate delayed after NBC encounters a technical glitch with Jay Inslee's suspension harness.

---
Beto O'Rourke betrays some nervousness as he places both arms in front of his face and begs the moderators to stop asking him questions.

---
President Trump tweets out that despite competing visions for the future of the country, he appreciates a vigorous debate between passionate citizens as being the bedrock of a functioning liberal democracy.

---
Most candidates pledge to stand up for the people who hate their fucking job but stay for the healthcare.

---
Cory Booker reaches out to Latin communities by vigorously flamenco dancing with a rose in his teeth.

---
Everyone in the audience sings "All Creatures Of Our God And King" as the donation plate makes its rounds during the offertory.

---
Amy Klobuchar touts a more moderate approach where Americans have a choice of whether to opt in to societal progress.

---
John Delaney stuns in a sexy navy suit and sizzling powder-blue tie ensemble. Show it all off, De-De!

---
Candidates share an awkward UberPool back to their hotel after the debate.