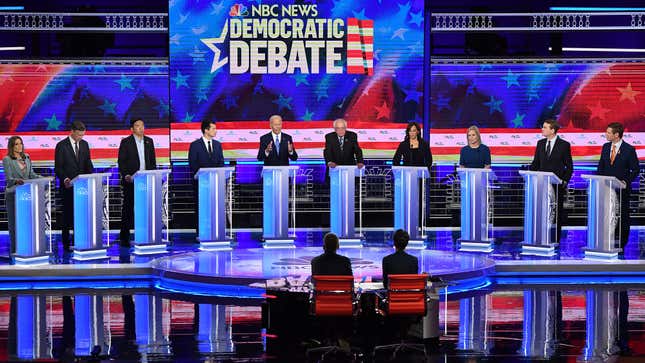 On Thursday night in Miami, Democratic presidential candidates Michael Bennet, Joe Biden, Pete Buttigieg, Kirsten Gillibrand, Kamala Harris, John Hickenlooper, Bernie Sanders, Eric Swalwell, Marianne Williamson, and Andrew Yang participated in the second of two nights of the party's initial primary debates. The Onion highlights the most important moments of day two of the Democratic primary debates.
CDC Issues Dire Warning That Nick Cannon Is Feeling Horny
---
Kamala Harris and Joe Biden tussle over differing views on race, immigration, and what it looks like to prepare for a debate.

---
Candidates raise their hands throughout the night but fail to get any kind of wave going.

---
Eric Swalwell interrupts Kirsten Gillibrand to deliver her opening statement.

---
Pete Buttigieg apologizes for police shooting a black man in South Bend but concedes it'll probably happen again.

---
Marianne Williamson promises 10% off your next Blue Apron order when you use the promo code MIRACLE.

---
John Hickenlooper makes case that if Democrats embrace socialism they risk losing to Trump in a slightly different way than they would otherwise.

---
Michael Bennet apologizes after accidentally introducing himself as Tim Ryan.

---
Kirsten Gillibrand appeals to women with a front-facing camera video impersonating what girlfriends in movies are like.

---
Chuck Todd repeatedly interrupts candidates to say he's being ignored and demands more time to speak.

---
Kamala Harris accidentally reveals her "That Little Girl Was Me" commemorative shirt minutes before she actually said that onstage.

---
Michael Bennet finally acknowledges that his last name would indeed look better with two t's.

---
Marianne Williamson invites other nine participants back to her Himalayan salt cave for a ritual purification orgy.