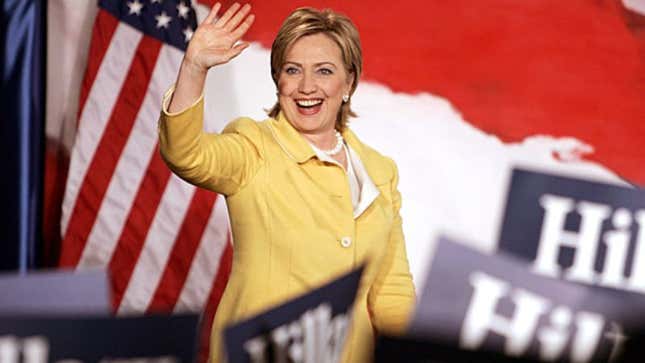 DES MOINES, IA—Democratic front-runner Hillary Clinton officially rescinded her bid for president at an Iowa campaign appearance Saturday.
This Week's Most Viral News: September 29, 2023
"Just two months ago, I promised that I'd listen to every voice through my town hall meetings, web chats, and trips to communities across the country," said Clinton, whose opponents have accused her of being out of touch with average voters. "America, you spoke clearly and with conviction—and I listened. And so I say to you today: Let the conversation end."
Polls showed that immediately following her speech, Clinton's approval numbers skyrocketed all across the South, wide swaths of the Midwest, scattered pockets of the Northeast, and in California, Alaska, Nevada, North Dakota, South Dakota, Hawaii, and Ohio.
Chris Matthews, host of MSNBC's Hardball, described Clinton's decision as the "single most unifying move" the highly polarizing figure has made yet.
"Hillary's always had a hard time connecting to audiences, but these Joe Six-Pack Iowans absolutely lit up at her speech," Matthews said. "For the first time, she's really speaking to the whole nation."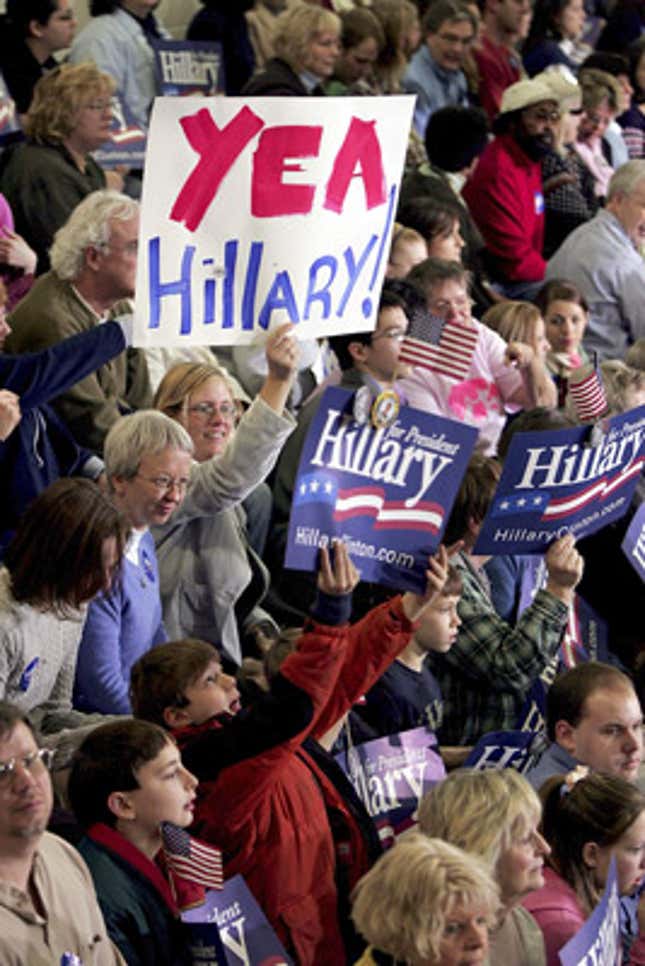 Along with Clinton's announcement, her campaign website posted the results of a recent telephone poll showing that an overwhelming majority of both Republican and Democrat respondents answered "Yes" to the questions "Don't you wish Sen. Clinton was not even running?" and "Wouldn't everything be better in this country if Sen. Clinton just bowed out now?"
Fox News Channel's chief political correspondent, Carl Cameron, called the announcement classic Clintonian triangulation—finding an unorthodox issue that people can agree upon across socioeconomic and party lines.
"She's cold, she's calculating, she's blind with ambition, but I'll be doggoned if she doesn't have her finger on the country's pulse," Cameron said. "Hillary's not usually one for surprises, but this was a paradigm-shifting moment that's guaranteed to turn her campaign around."
Many Republican-leaning voters said that while they still didn't agree with Sen. Clinton on the issues, they were personally impressed with the boldness of her decision.
"This was an unexpected moment, and it took a lot of courage on her part," said Miami resident Brian Highland, a former supporter of Arizona Sen. John McCain. "I've been a staunch Republican all my life, but now that Hillary's dropped out of the race, she's definitely got my vote."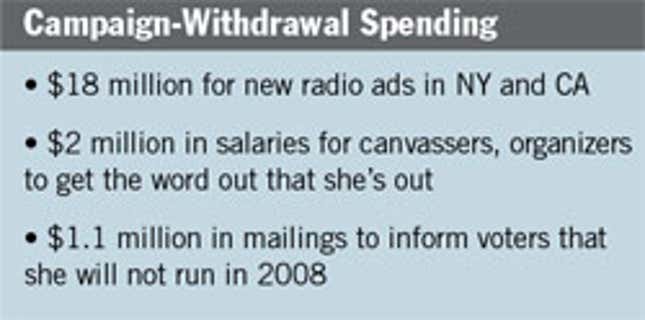 In the political blogosphere, some describe the move as a brilliant political stratagem in tune with the national zeitgeist, while others insist it reveals Clinton's tendency to pander to public opinion.
"I knew Hillary was willing to change her positions based on surveys and focus groups, but I'd always assumed her presidential aspiration was her most deeply held belief," blogger Joe Sudbay of AMERICAblog wrote. "If she's going to pull out of the race just to please voters, maybe she doesn't deserve to be president."
Added Sudbay: "She said she was 'in it to win it'—was that just posturing, too?"
Clinton will unroll a $15 million ad buy tomorrow covering the major primary states to publicize her withdrawal, and kick off a 19-month bus tour next week through the expected battleground states.
"I want every potential voter in America to know my position on this important issue," said Clinton, referring to her candidacy. "When people go to the polls next year to vote for 'anybody but Hillary,' I want them to think of just one candidate: me."