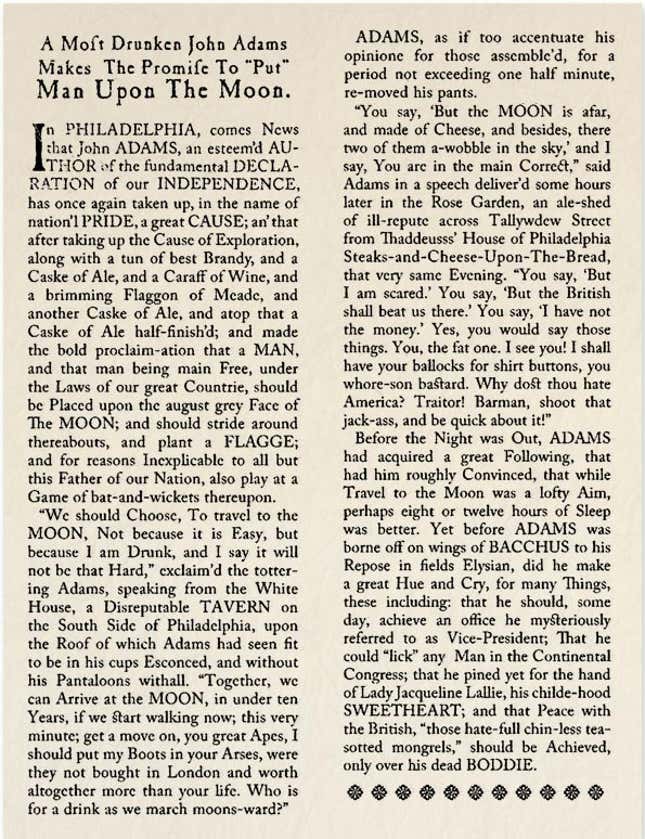 In PHILADELPHIA, comes News that John ADAMS, an esteem'd AUTHOR of the fundamental DECLARATION of our INDEPENDENCE, has once again taken up, in the name of nation'l PRIDE, a great CAUSE; an' that after taking up the Cause of Exploration, along with a tun of best Brandy, and a Caske of Ale, and a Caraff of Wine, and a brimming Flaggon of Meade, and another Caske of Ale, and atop that a Caske of Ale half-finish'd; and made the bold proclaim-ation that a MAN, and that man being main Free, under the Laws of our great Countrie, should be Placed upon the august grey Face of The MOON; and should stride around thereabouts, and plant a FLAGGE; and for reasons Inexplicable to all but this Father of our Nation, also play at a Game of bat-and-wickets thereupon.
Study Finds LSD Highly Effective At Ruining Nephew's Baptism
"We should Choose, To travel to the MOON, Not because it is Easy, but because I am Drunk, and I say it will not be that Hard," exclaim'd the tottering Adams, speaking from the White House, a Disreputable TAVERN on the South Side of Philadelphia, upon the Roof of which Adams had seen fit to be in his cups Esconced, and without his Pantaloons withall. "Together, we can Arrive at the MOON, in under ten Years, if we start walking now; this very minute; get a move on, you great Apes, I should put my Boots in your Arses, were they not bought in London and worth altogether more than your life. Who is for a drink as we march moons-ward?"
ADAMS, as if too accentuate his opinione for those assemble'd, for a period not exceeding one half minute, re-moved his pants.
"You say, 'But the MOON is afar, and made of Cheese, and besides, there two of them a-wobble in the sky,' and I say, You are in the main Correct," said Adams in a speech deliver'd some hours later in the Rose Garden, an ale-shed of ill-repute across Tallywdew Street from Thaddeusss' House of Philadelphia Steaks-and-Cheese-Upon-The-Bread, that very same Evening. "You say, 'But I am scared.' You say, 'But the British shall beat us there.' You say, 'I have not the money.' Yes, you would say those things. You, the fat one. I see you! I shall have your ballocks for shirt buttons, you whore-son bastard. Why dost thou hate America? Traitor! Barman, shoot that jack-ass, and be quick about it!"
Before the Night was Out, ADAMS had acquired a great Following, that had him roughly Convinced, that while Travel to the Moon was a lofty Aim, perhaps eight or twelve hours of Sleep was better. Yet before ADAMS was borne off on wings of BACCHUS to his Repose in fields Elysian, did he make a great Hue and Cry, for many Things, these including: that he should, some day, achieve an office he mysteriously referred to as Vice-President; That he could "lick" any† Man in the Continental Congress; that he pined yet for the hand of Lady Jacqueline Lallie, his childe-hood SWEETHEART; and that Peace with the British, "those hate-full chin-less tea-sotted mongrels," should be Achieved, only over his dead BODDIE.