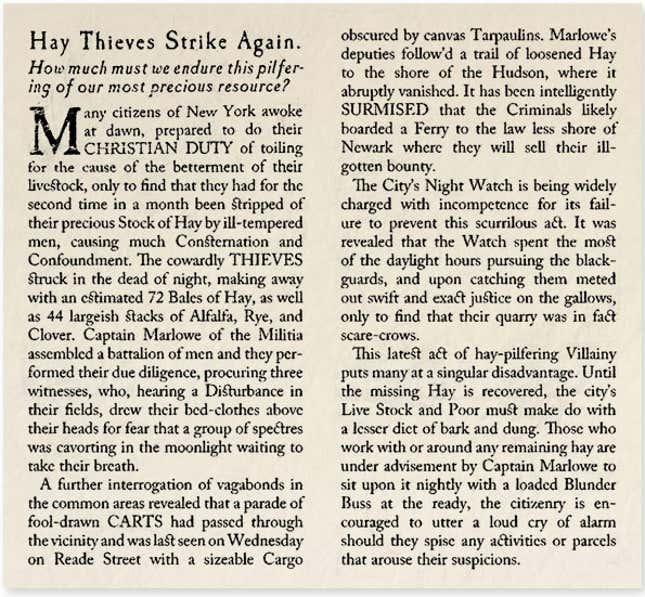 Many citizens of New York awoke at dawn, prepared to do their CHRISTIAN DUTY of toiling for the cause of the betterment of their livestock, only to find that they had for the second time in a month been stripped of their precious Stock of Hay by ill-tempered men, causing much Consternation and Confoundment. The cowardly THIEVES struck in the dead of night, making away with an estimated 72 Bales of Hay, as well as 44 largeish stacks of Alfalfa, Rye, and Clover. Captain Marlowe of the Militia assembled a battalion of men and they performed their due diligence, procuring three witnesses, who, hearing a Disturbance in their fields, drew their bed-clothes above their heads for fear that a group of spectres was cavorting in the moonlight waiting to take their breath.
A further interrogation of vagabonds in the common areas revealed that a parade of fool-drawn CARTS had passed through the vicinity and was last seen on Wednesday on Reade Street with a sizeable Cargo obscured by canvas Tarpaulins. Marlowe's deputies follow'd a trail of loosened Hay to the shore of the Hudson, where it abruptly vanished. It has been intelligently SURMISED that the Criminals likely boarded a Ferry to the law less shore of Newark where they will sell their ill- gotten bounty.
The City's Night Watch is being widely charged with incompetence for its failure to prevent this scurrilous act. It was revealed that the Watch spent the most of the daylight hours pursuing the blackguards, and upon catching them meted out swift and exact justice on the gallows, only to find that their quarry was in fact scare-crows.
This latest act of hay-pilfering Villainy puts many at a singular disadvantage. Until the missing Hay is recovered, the city's Live Stock and Poor must make do with a lesser diet of bark and dung. Those who work with or around any remaining hay are under advisement by Captain Marlowe to sit upon it nightly with a loaded Blunder Buss at the ready, the citizenry is en- couraged to utter a loud cry of alarm should they spise any activities or parcels that arouse their suspicions.
That Inspirational Piper of '76 Has At Last Succumbed To His Head-Wounds.
From BOSTON comes dread News of the Death, after long-suffr'ing his Injurie, of Samuel Rush, who lest we suffer from Forget-ful-ness, was the worthy GentleMan, so often portrayed† in Song and Woodcut, as bleeding from grievous Blows to the Head, and being Bandag'd thereupon, while playing up'n his Pipe while a'company'ed by one Drummer and another bearing our beloved Flag, after Battle with the English.
Though-out his Career as a Piper, which did last until last Year, whence he found it too Difficult to remain Awake, Rush was oft tempted to allow his Wound to close, and to make it cease from weeping Bloode, and from suppuration, and from the issuance of strong Smells, and of Magg'try, and of Pus; but then would Rush remember his Duty as a Patriot and an American, and leave his Bandage upon his Head to up-Lift the Spirits of Every Man. An' it happened, that Thurday last, did Rush go to his Reward, as no strong dose of Calomell nor of Alcohol could render him Awake.
God save and keep him in Heav'n, and keep his Wound fresh, and cause it to weep the crimson Tears of Liberty for time Everlasting, that it shew the Glorie of our Nation. Amen.