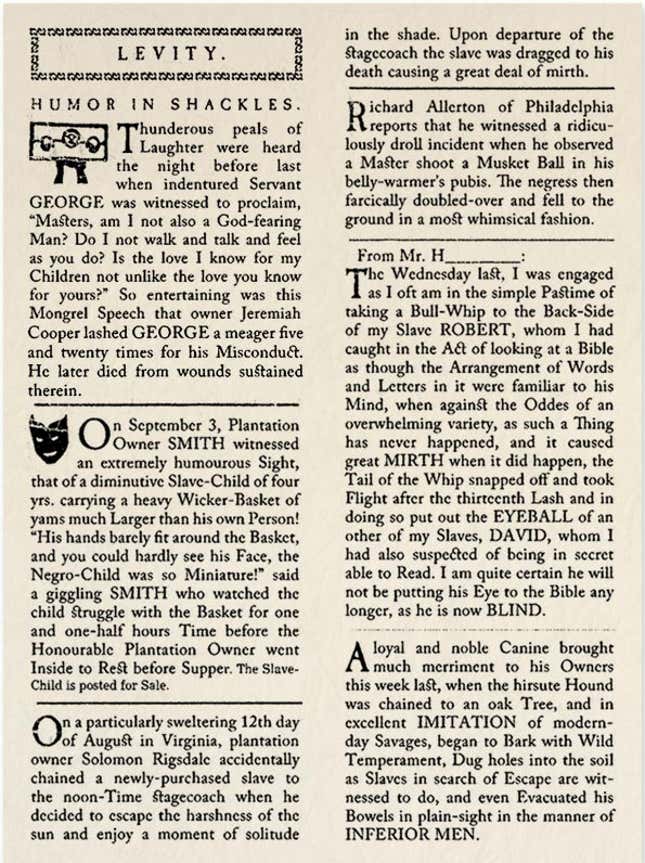 Thunderous peals of Laughter were heard the night before last when indentured Servant GEORGE was witnessed to proclaim, "Masters, am I not also a God-fearing Man? Do I not walk and talk and feel as you do? Is the love I know for my Children not unlike the love you know for yours?" So entertaining was this Mongrel Speech that owner Jeremiah Cooper lashed GEORGE a meager five and twenty times for his Misconduct. He later died from wounds sustained therein.
On September 3, Plantation Owner SMITH witnessed an extremely humourous Sight, that of a diminutive Slave-Child of four yrs. carrying a heavy Wicker-Basket of yams much Larger than his own Person! "His hands barely fit around the Basket, and you could hardly see his Face, the Negro-Child was so Miniature!" said a giggling SMITH who watched the child struggle with the Basket for one and one-half hours Time before the Honourable Plantation Owner went Inside to Rest before Supper. The Slave-Child is posted for Sale.
On a particularly sweltering 12th day of August in Virginia, plantation owner Solomon Rigsdale accidentally chained a newly-purchased slave to the noon-Time stagecoach when he decided to escape the harshness of the sun and enjoy a moment of solitude in the shade. Upon departure of the stagecoach the slave was dragged to his death causing a great deal of mirth.
Richard Allerton of Philadelphia reports that he witnessed a ridiculously droll incident when he observed a Master shoot a Musket Ball in his belly-warmer's pubis. The negress then farcically doubled-over and fell to the ground in a most whimsical fashion.
From Mr. H_________:
The Wednesday last, I was engaged as I oft am in the simple Pastime of taking a Bull-Whip to the Back-Side of my Slave ROBERT, whom I had caught in the Act of looking at a Bible as though the Arrangement of Words and Letters in it were familiar to his Mind, when against the Oddes of an overwhelming variety, as such a Thing has never happened, and it caused great MIRTH when it did happen, the Tail of the Whip snapped off and took Flight after the thirteenth Lash and in doing so put out the EYEBALL of an other of my Slaves, DAVID, whom I had also suspected of being in secret able to Read. I am quite certain he will not be putting his Eye to the Bible any longer, as he is now BLIND.
A loyal and noble Canine brought much merriment to his Owners this week last, when the hirsute Hound was chained to an oak Tree, and in excellent IMITATION of modern-day Savages, began to Bark with Wild Temperament, Dug holes into the soil as Slaves in search of Escape are witnessed to do, and even Evacuated his Bowels in plain-sight in the manner of INFERIOR MEN.