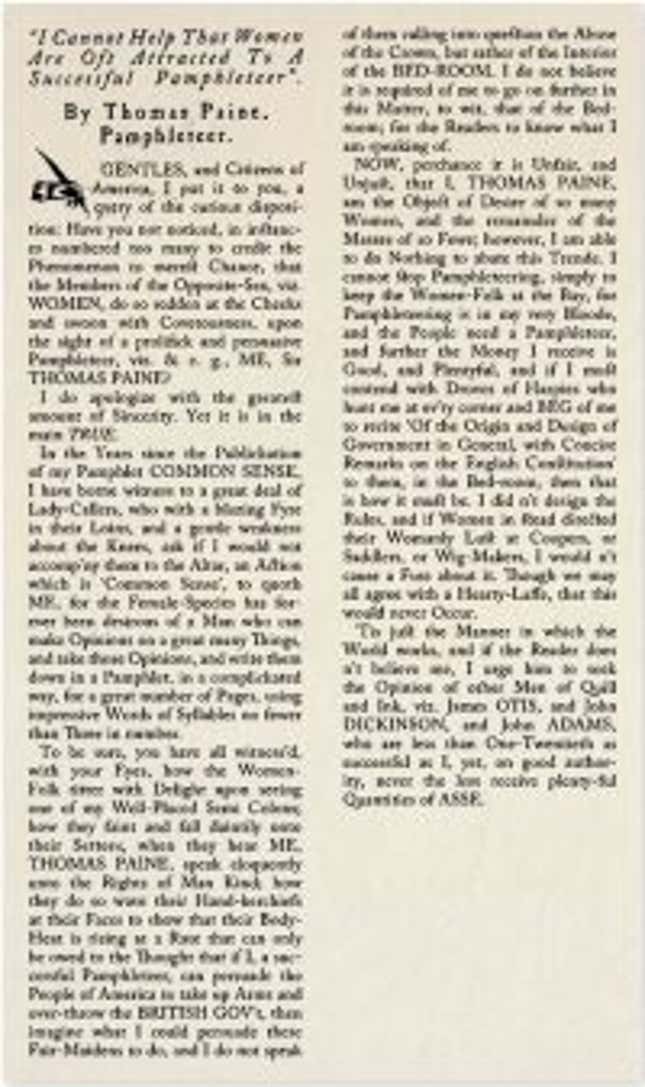 GENTLES, and Citizens of America, I put it to you, a query of the curious disposition: Have you not noticed, in instances numbered too many to credit the Phenomenon to merest Chance, that the Members of the Opposite-Sex, viz. WOMEN, do so redden at the Cheeks and swoon with Covetousness, upon the sight of a prolifick and persuasive Pamphleteer, viz. & e. g., ME, Sir THOMAS PAINE?
This Week's Most Viral News: September 22, 2023
I do apologize with the greatest amount of Sincerity. Yet it is in the main TRUE.
In the Years since the Publickation of my Pamphlet COMMON SENSE, I have borne witness to a great deal of Lady-Callers, who with a blazing Fyre in their Loins, and a gentle weakness about the Knees, ask if I would not accomp'ny them to the Altar, an Action which is 'Common Sense', to quoth ME, for the Female-Species has for-ever been desirous of a Man who can make Opinions on a great many Things, and take those Opinions, and write them down in a Pamphlet, in a complickated way, for a great number of Pages, using impressive Words of Syllables no fewer than Three in number.
To be sure, you have all witness'd, with your Eyes, how the Women-Folk titter with Delight upon seeing one of my Well-Placed Semi Colons; how they faint and fall daintily onto their Settees, when they hear ME,† THOMAS PAINE, speak eloquently unto the Rights of Man Kind; how they do so wave their Hand-kerchiefs at their Faces to show that their Body-Heat is rising at a Rate that can only be owed to the Thought that if I, a successful Pamphleteer, can persuade the People of America to take up Arms and over-throw the BRITISH GOV't, then imagine what I could persuade these Fair-Maidens to do, and I do not speak of them calling into question the Abuse of the Crown, but rather of the Interior of the BED-ROOM. I do not believe it is required of me to go on further in this Matter, to wit, that of the Bed-room; for the Readers to know what I am speaking of.
NOW, perchance it is Unfair, and Unjust, that I, THOMAS PAINE, am the Object of Desire of so many Women, and the remainder of the Masses of so Fewe; however, I am able to do Nothing to abate this Trende. I cannot stop Pamphleteering, simply to keep the Women-Folk at the Bay, for Pamphleteering is in my very Bloode, and the People need a Pamphleteer, and further the Money I receive is Good, and Plentyful, and if I must contend with Droves of Harpies who hunt me at ev'ry corner and BEG of me to recite 'Of the Origin and Design of Government in General, with Concise Remarks on the English Constitution' to them, in the Bed-room, then that is how it must be. I did n't design the Rules, and if Women in stead directed their Womanly Lust at Coopers, or Saddlers, or Wig-Makers, I would n't cause a Fuss about it. Though we may all agree with a Hearty-Laffe, that this would never Occur.
'Tis just the Manner in which the World works, and if the Reader does n't believe me, I urge him to seek the Opinion of other Men of Quill and Ink, viz. James OTIS, and John DICKINSON, and John ADAMS, who are less than One-Twentieth as successful as I, yet, on good authority, never the less receive plenty-ful Quantities of ASSE.