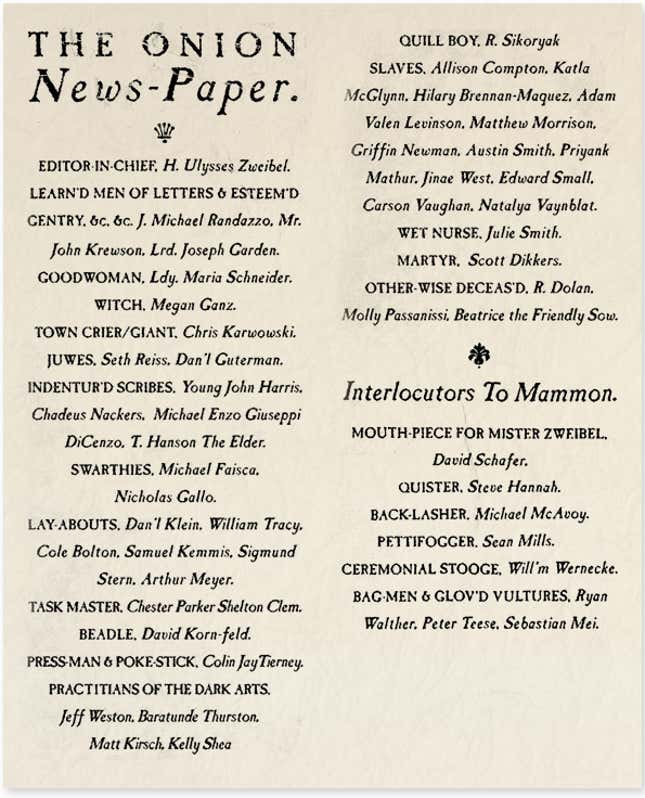 Editor-in-Chief, H. Ulysses Zweibel.
learn'd men of letters & esteem'd gentry, &c;, &c.; J. Michael Randazzo, Mr. John Krewson, Lrd. Joseph Garden.
This Week's Most Viral News: September 29, 2023
GOODWOMAN, Ldy. Maria Schneider. WITCH, Megan Ganz.
town crier/giant, Chris Karwowski.
JUWES, Seth Reiss, Dan'l Guterman.
indentur'd scribes, Young John Harris, Chadeus Nackers, Michael Enzo Giuseppi DiCenzo, T. Hanson The Elder.
Swarthies, Michael Faisca,
Nicholas Gallo.
lay-abouts, Dan'l Klein, William Tracy, Cole Bolton, Samuel Kemmis, Sigmund Stern, Arthur Meyer.
Task master, Chester Parker Shelton Clem.
BEADLE, David Korn-feld.
press-man & POKE-STICK, Colin JayTierney.
prACTITIANS OF THE DARK ARTS,
Jeff Weston, Baratunde Thurston,
Matt Kirsch, Kelly Shea
quill boy, R. Sikoryak
slaves, Allison Compton, Katla McGlynn, Hilary Brennan-Maquez, Adam Valen Levinson, Matthew Morrison, Griffin Newman, Austin Smith, Priyank Mathur, Jinae West, Edward Small, Carson Vaughan, Natalya Vaynblat.
wet nurse, Julie Smith.
martyr, Scott Dikkers.
Other-Wise deceas'd, R. Dolan,
Molly Passanissi, Beatrice the Friendly Sow.
s
Interlocutors To Mammon.
mouth-piece for mister zweibel, David Schafer.
quister, Steve Hannah.
back-lasher, Michael McAvoy.
Pettifogger, Sean Mills.
ceremonial stooge, Will'm Wernecke.
bag-men & Glov'd vultures, Ryan Walther, Peter Teese, Sebastian Mei.