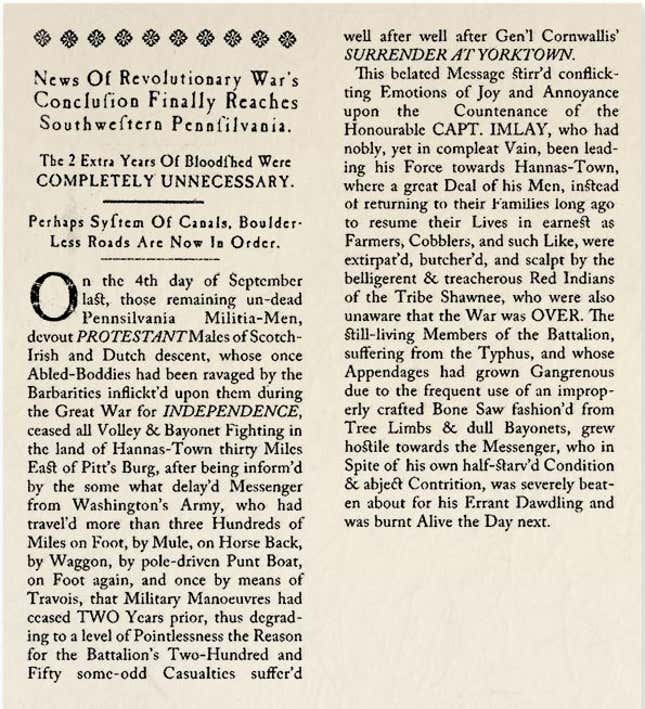 On the 4th day of September last, those remaining un-dead Pennsilvania Militia-Men, devout PROTESTANT Males of Scotch-Irish and Dutch descent, whose once Abled-Boddies had been ravaged by the Barbarities inflickt'd upon them during the Great War for INDEPENDENCE, ceased all Volley & Bayonet Fighting in the land of Hannas-Town thirty Miles East of Pitt's Burg, after being inform'd by the some what delay'd Messenger from Washington's Army, who had travel'd more than three Hundreds of Miles on Foot, by Mule, on Horse Back, by Waggon, by pole-driven Punt Boat, on Foot again, and once by means of Travois, that Military Manoeuvres had ceased TWO Years prior, thus degrading to a level of Pointlessness the Reason for the Battalion's Two-Hundred and Fifty some-odd Casualties suffer'd well after well after Gen'l Cornwallis' SURRENDER AT YORKTOWN.
This Week's Most Viral News: September 29, 2023
This belated Message stirr'd conflickting Emotions of Joy and Annoyance upon the† Countenance of the Honourable CAPT. IMLAY, who had nobly, yet in compleat Vain, been leading his Force towards Hannas-Town, where a great Deal of his Men, instead of returning to their Families long ago to resume their Lives in earnest as Farmers, Cobblers, and such Like, were extirpat'd, butcher'd, and scalpt by the belligerent & treacherous Red Indians of the Tribe Shawnee, who were also unaware that the War was OVER. The still-living Members of the Battalion, suffering from the Typhus, and whose Appendages had grown Gangrenous due to the frequent use of an improperly crafted Bone Saw fashion'd from Tree Limbs & dull Bayonets, grew hostile towards the Messenger, who in Spite of† his own half-starv'd Condition & abject Contrition, was severely beaten about for his Errant Dawdling and was burnt Alive the Day next.