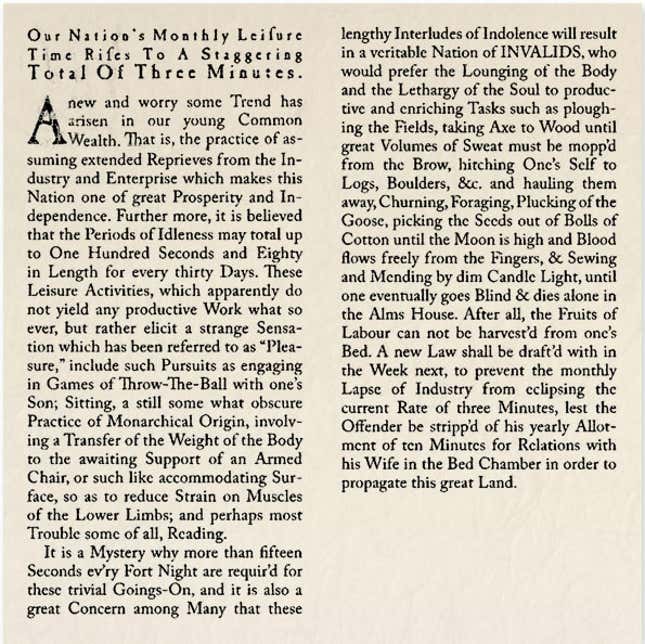 Anew and worry some Trend has arisen in our young Common Wealth. That is, the practice of assuming extended Reprieves from the Industry and Enterprise which makes this Nation one of great Prosperity and Independence. Further more, it is believed that the Periods of Idleness may total up to One Hundred Seconds and Eighty in Length for every thirty Days. These Leisure Activities, which apparently do not yield any productive Work what so ever, but rather elicit a strange Sensation which has been referred to as "Pleasure," include such Pursuits as engaging in Games of Throw-The-Ball with one's Son; Sitting, a still some what obscure Practice of Monarchical Origin, involving a Transfer of the Weight of the Body† to the awaiting Support of an Armed Chair, or such like accommodating Surface, so as to reduce Strain on Muscles of the Lower Limbs; and perhaps most Trouble some of all, Reading.
This Week's Most Viral News: September 22, 2023
It is a Mystery why more than fifteen Seconds ev'ry Fort Night are requir'd for these trivial Goings-On, and it is also a great Concern among Many that these lengthy Interludes of Indolence will result in a veritable Nation of INVALIDS, who would prefer the Lounging of the Body and the Lethargy of the Soul to productive and enriching Tasks such as ploughing the Fields, taking Axe to Wood until great Volumes of Sweat must be mopp'd from the Brow, hitching One's Self to Logs, Boulders, &c.; and hauling them away, Churning, Foraging, Plucking of the Goose, picking the Seeds out of Bolls of Cotton until the Moon is high and Blood flows freely from the Fingers, & Sewing and Mending by dim Candle Light, until one eventually goes Blind & dies alone in the Alms House. After all, the Fruits of Labour can not be harvest'd from one's Bed. A new Law shall be draft'd with in the Week next, to prevent the monthly Lapse of Industry from eclipsing the current Rate of three Minutes, lest the Offender be stripp'd of his yearly Allotment of ten Minutes for Relations with his Wife in the Bed Chamber in order to propagate this great Land.