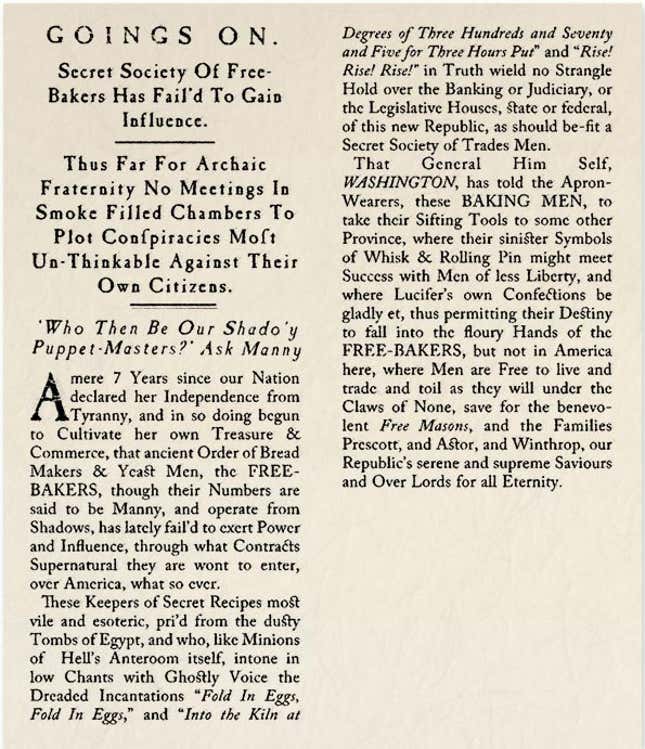 Thus Far For Archaic Fraternity No Meetings In Smoke Filled Chambers To Plot Conspiracies Moſt Un-Thinkable Against Their Own Citizens.
This Week's Most Viral News: September 22, 2023
'Who Then Be Our Shado'y Puppet-Masters?' Ask Manny
Amere 7 Years since our Nation declared her Independence from Tyranny, and in so doing begun to Cultivate her own Treasure & Commerce, that ancient Order of Bread Makers & Yeast Men, the FREE-BAKERS, though their Numbers are said to be Manny, and operate from Shadows, has lately fail'd to exert Power and Influence, through what Contracts Supernatural they are wont to enter, over America, what so ever.
These Keepers of Secret Recipes most vile and esoteric, pri'd from the dusty Tombs of Egypt, and who, like Minions of† Hell's Anteroom itself, intone in low Chants with Ghostly Voice the Dreaded Incantations "Fold In Eggs, Fold In Eggs," and "Into the Kiln at Degrees of Three Hundreds and Seventy and Five for Three Hours Put" and "Rise! Rise! Rise!" in Truth wield no Strangle Hold over the Banking or Judiciary, or the Legislative Houses, state or federal, of this new Republic, as should be-fit a Secret Society of Trades Men.
That General Him Self, WASHINGTON, has told the Apron-Wearers, these BAKING MEN, to take their Sifting Tools to some other Province, where their sinister Symbols of Whisk & Rolling Pin might meet Success with Men of less Liberty, and where Lucifer's own Confections be gladly et, thus permitting their Destiny to fall into the floury Hands of the FREE-BAKERS, but not in America here, where Men are Free to live and trade and toil as they will under the Claws of None, save for the benevolent Free Masons, and the Families Prescott, and Astor, and Winthrop, our Republic's serene and supreme Saviours and Over Lords for all Eternity.