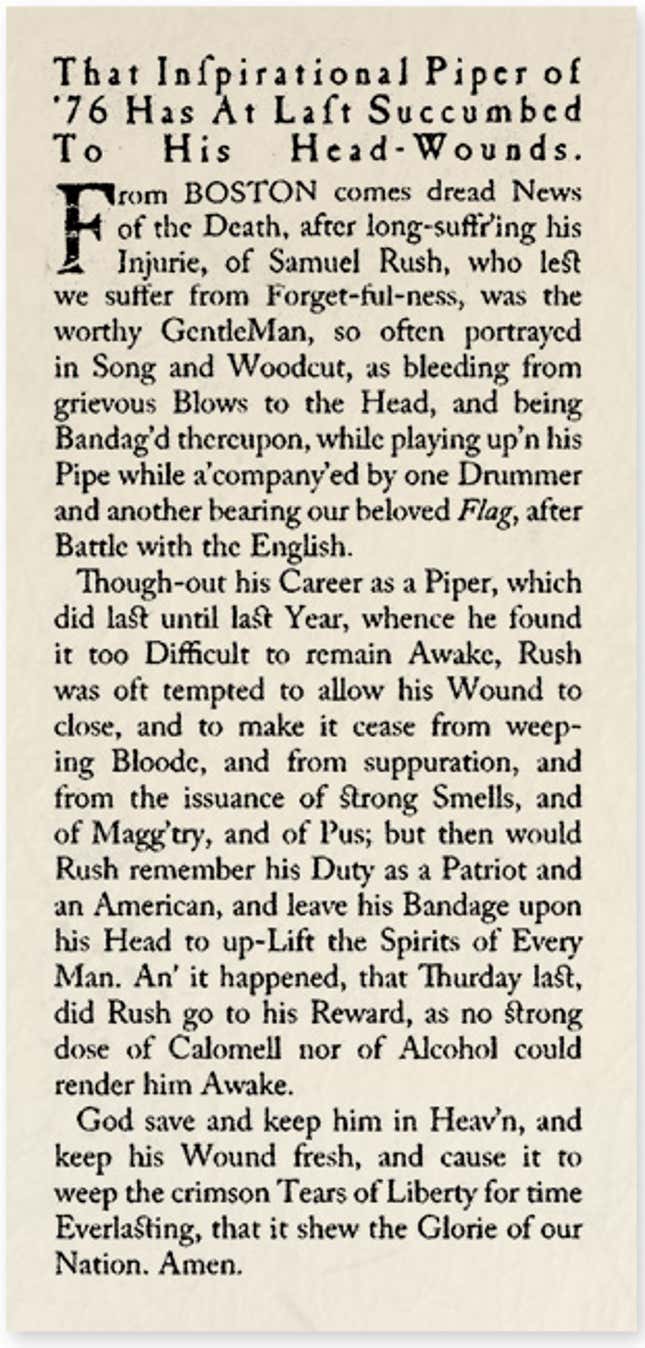 From BOSTON comes dread News of the Death, after long-suffr'ing his Injurie, of Samuel Rush, who lest we suffer from Forget-ful-ness, was the worthy GentleMan, so often portrayed† in Song and Woodcut, as bleeding from grievous Blows to the Head, and being Bandag'd thereupon, while playing up'n his Pipe while a'company'ed by one Drummer and another bearing our beloved Flag, after Battle with the English.
Edgelords Explain Why They Love Elon Musk
Though-out his Career as a Piper, which did last until last Year, whence he found it too Difficult to remain Awake, Rush was oft tempted to allow his Wound to close, and to make it cease from weeping Bloode, and from suppuration, and from the issuance of strong Smells, and of Magg'try, and of Pus; but then would Rush remember his Duty as a Patriot and an American, and leave his Bandage upon his Head to up-Lift the Spirits of Every Man. An' it happened, that Thurday last, did Rush go to his Reward, as no strong dose of Calomell nor of Alcohol could render him Awake.
God save and keep him in Heav'n, and keep his Wound fresh, and cause it to weep the crimson Tears of Liberty for time Everlasting, that it shew the Glorie of our Nation. Amen.