BOSTON—Fifty years after its inception, rock 'n' roll music remains popular due to the ardor of its fans and the hard work of musicians, producers, and concert promoters. But in the vast universe of popular music, there exists an oft-overlooked group of dedicated individuals who devote their ample free time to collecting, debating, and publishing the minutiae of the rock genre. They are the losers who write rock's rich and storied history.
"The city of Boston is about more than just Mission Of Burma or Galaxie 500, and it's certainly about more than Boston or The Cars," said 28-year-old Dana Harris, a rock historian. "The scene in Boston is full of history, but it's also vibrant right now. Someone needs to record all the amazing things going on here, even if it means that person will never have a social life."
For Harris, rock is the only topic of conversation and the only form of entertainment. While other men his age go on dates or enjoy the sunlight, Harris haunts the rear corners of local rock clubs like The Paradise, where he sits alone, hunched over a notebook. During the day, he works in his windowless bedroom compiling facts about the city's rock history for his web site, BostonRockScene.com.
"Rock is so important to me," Harris said, gesturing to a cabinet where he files articles concerning all of the live shows he attends and detailed transcriptions of interviews with artists who live only blocks away. "If I couldn't write about music and collect music, I have no idea what I'd do instead."
The social misfits who chronicle rock seek not only to log facts, but also to influence public opinion about obscure rock issues, something most people care little about.
G/O Media may get a commission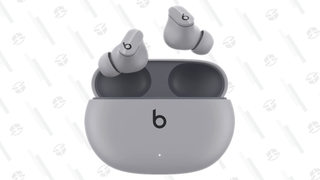 "Joe Lunchpail would say 'Rock Around The Clock' by Bill Haley & His Comets was the first rock single, but that's dead wrong," said Dave Rinkin, a line cook in Chapel Hill, NC, who occasionally writes for Roctober magazine and has a collection of more than 10,000 records. "Haley's song just brought the sound to the mainstream. Anyone who knows anything will say the first single was either Roy Brown's 'Good Rockin' Tonight' or 'Rocket 88' by Jackie Brenston And His Delta Cats."
Added Rinkin: "Brenston And His Delta Cats was actually Ike Turner's Kings Of Rhythm under a different name, in case you didn't know."
From covering concerts for a local newspaper to distilling rock's history into an 800-page book, the historians of rock 'n' roll soldier on, despite their negligible impact on the direction or quality of rock itself.
"When you're writing rock's history, you have to make some hard choices," said Anthony DeCurtis, one of the editors of The Rolling Stone Illustrated History Of Rock. "Do you give equal space to influential artists like Jonathan Richman, Gang Of Four, and Fugazi, even though they're not as well known as Madonna or Elton John? Making a decision like that can take an entire weekend of soul-searching."
"I don't mind, though, because I love music," added DeCurtis, slipping a Cream CD just to the left of one by The Creation in the British Invasion section of his music collection. "Rock is just so spontaneous and full of life."
Not all rock history is comprehensive. Many rock historians choose to focus on individual artists who can barely tolerate the authors when they meet. In-depth rock bios have been written about acts ranging from Bruce Springsteen to Captain Beefheart, with biographers desperately trying to attain coolness by association with their subjects.
"Talking Heads was a crucial band for its time," said David Bowman, author of This Must Be The Place: The Adventures Of The Talking Heads In The 20th Century. "Their quirky brand of music brought African and funk flavors to American pop, both in the underground and on Top 40 radio. David Byrne's influence can still be heard in modern hip-hop. If you have a couple hours, I'd be happy to talk at you about it."
Although rock historians provide a valuable service to music fanatics, Princeton sociology professor Henry Yates said that their focus on music hinders their accumulation of knowledge in other areas.
"From discussing long-defunct record labels to analyzing the impact of a band's personnel changes, rock historians cannot see beyond their acne-scarred noses to realize that there are interesting subjects in the world besides music," said Yates, a self-professed "ex-music-nerd." "If you ask them who the U.S. attorney general is, or what's going on in the park around the corner, you'll get a blank stare. But ask which member of The Doors produced Los Angeles, the debut album by X, and you'll have to dodge all the flying spittle from everyone trying to be the first to answer."
Added Yates: "It was Ray Manzarek."