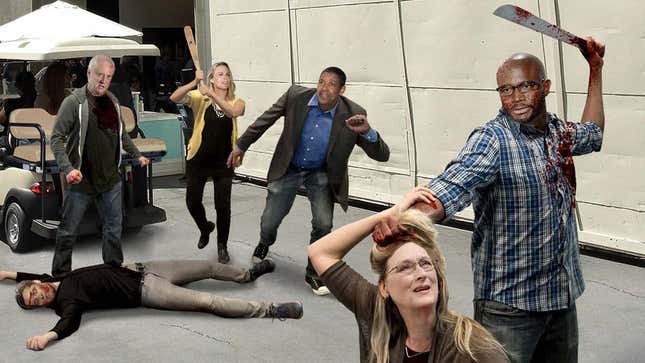 LOS ANGELES—Unleashing a brutal wave of violence and destruction that has upended the entire power structure of the entertainment industry overnight, the nation's C-list celebrities have carried out a bloody coup to overthrow the hottest stars in Hollywood, sources reported Tuesday.
Demand Grows For Stricter Transit Regulations After Derailing Train Hits Airplane At 30,000 Feet
Armed hordes of lesser-known actors—who rampaged from studio to studio, setting fire to everything in their path and leaving the dismembered bodies of their A-list counterparts scattered across Los Angeles County—reportedly rose up and revolted after years of being passed over for leading roles, denied awards, and generally ignored by the media in favor of those with greater name recognition.
"We've tried to contain the damage, but much of the city is in flames, and a marauding faction, which appears to be led by actor Taye Diggs, is now in complete control of the area from Sunset Boulevard all the way down to Pico," said L.A. police chief Charlie Beck, adding that the carnage began Monday when a contingent of actors from the TNT show Rizzoli & Isles stormed the Ivy Restaurant in West Hollywood and began slitting the throats of top-tier celebrities. "We have at least 57 confirmed casualties, including Daniel Day-Lewis, Robert De Niro, and Sandra Bullock."
"Unfortunately, heavy violence and bloodshed continue throughout much of the area," added Beck, the sound of sirens and intermittent explosions audible behind him. "I can confirm that the entire neighborhood of Brentwood has been lost."
Following decades of strained relations, tensions between actors of limited fame and the Hollywood elite are believed to have reached a boiling point yesterday when former child star Frankie Muniz was bumped from his slot on Jimmy Kimmel Live! after an interview with Channing Tatum ran longer than expected. Sources said word of the slight spread quickly, fomenting unrest and prompting calls for vengeance among the mildly famous.
According to a shaken casting director who barely escaped the grisly scene, a group of actors auditioning for a small guest role on CSI: Cyber turned on the show's producers Monday afternoon and began systematically stringing up cast and crew members from a stoplight at a nearby intersection. By evening, minor celebrities, including John Larroquette and Raven-Symoné, were seen crashing a star-studded screening of The Jungle Book at the El Capitan Theatre, where they allegedly stormed the red carpet with machetes and massacred each of the movie's leads in front of the paparazzi.
The rebellion's spokesman, former Star Trek: The Next Generation cast member Brent Spiner, appeared in a video alongside The Good Wife's Dylan Baker and Ashley Tisdale of the High School Musical franchise to detail the group's demands.
"It is we, the overlooked and the underpublicized, who today have made these streets run red with the blood of studio heads and beloved superstars," Spiner said into the camera, standing near a shackled and gagged George Clooney. "Henceforth, members of our ranks will be featured on magazine covers and given starring roles, and we will never again be made to perform in reality-show talent competitions. For every hour that our demands are not met, another top star dies."
"Goodbye, Mr. Clooney," Spiner added before unloading a single round from his silenced pistol into the Gravity star's face.
According to witnesses, dozens of angry actors marched off the CW lot in Burbank yesterday and pillaged through the streets carrying the head of TV executive Les Moonves. Bands of the irate C-listers are said to have poured down from the Hollywood Hills at nightfall, reportedly smashing the limousines and luxury vehicles they encountered on Melrose Avenue and Rodeo Drive before laying siege to the Los Feliz compound of Angelina Jolie and Brad Pitt.
A visibly stunned and blood-spattered maid working at the Pitt-Jolie residence told reporters she saw former Touched By An Angel actress Della Reese and an America's Next Top Model finalist bludgeon the star couple to death with their own Academy Award and Golden Globe statuettes.
Others who managed to escape the violence shared similar stories of the wanton killing carried out by the crazed lower-tier television and film actors.

"Bodies were piling up all around me, and I just got under my desk and prayed," said Weinstein Company executive assistant Marley LaFond, who described a number of cast members from The Goldbergs and Criminal Minds, whom she recognized but was unable to name, storming her Beverly Hills office, massacring employees, and forcing Harvey Weinstein to sign a contract with his own blood that guaranteed his attackers prominent film roles for the next decade. "They tied me up and forced me to watch as they threw Mr. Weinstein out a window."
"Then they put a gun up to my head and told me to tell the world what happened in there," a trembling LaFond continued.
In a disturbing display of the scope and gruesomeness of the uprising, a video was leaked online of Alicia Silverstone and Lance Bass commandeering a TMZ Celebrity Tour bus and crashing it through a fundraising gala at Leonardo DiCaprio's mansion. In the video, the pair are seen detonating explosives strapped to their chests, killing an unknown number of household names along with themselves.
With such violence continuing unabated, many with connections to the C-list rioters have begun speaking out in hopes of bringing about an end to the celebrity mass murder.

"Please! I beg of you, stop this madness," WME talent agent Ari Emanuel said in a public address this morning directed at the rebel group. "We care about all our talent equally. Think about what you're doing to the American people when you spill the blood of their most-loved celebrities. You're not just harming the big-name movie stars; you're harming the audience. It's time for the slaughter to end."
"You have our attention now," Emanuel added.