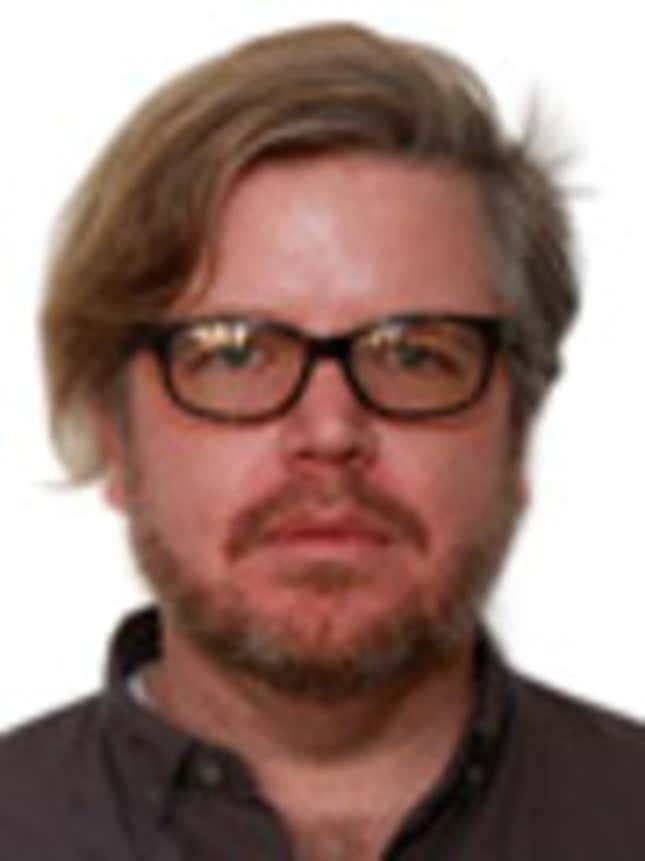 Honey. Please. Just drop it. I'm serious, I'm not doing this with you now. We're in the bread aisle of the Food Lion, for God's sake. I'm not going to get sucked in to another one of these stupid arguments again. Not now, okay? Not here. No, I'm telling you, I don't want to hear anything about the gimmickry of retro '60s hairdos or guy-girl fractured-pop ensembles, certainly not from someone who worships the Cramps, understand? So just stop.
Study Finds LSD Highly Effective At Ruining Nephew's Baptism
People are staring. Could you please lower your voice? Honey, if you think I'm going to stand here in the middle of this supermarket and debate you on the validity of the first two B-52's LPs, then you are sorely mistaken.
"Why not?" I'll tell you why not: Because everybody with even half a sense of the post-punk/new-wave aesthetic can tell you that there is NO debating this subject, that's why. Hello? "Rock Lobster"? "Planet Claire has pink air"? Any of this ringing a bell, Mrs. Self-Declared Expert-On-All-Things-From-The-Late-'70s/Early-'80s-Athens, GA-Underground-Scene? I suppose they were playing CBGB's in 1978 because they WEREN'T cool? Unbelievable. Where's the goddamn coupon for the applesauce? Well, you had it last…
What? Do not bring Ricky Wilson into this. His alternate guitar tunings were more than just a way to cover for the group's lack of a bassist; they were absolutely integral to the driving, rhythmic sound of the band, and you know it. Derivative of Robert Fripp, my ass. The guy played session dates for Tom Verlaine, for crying out loud. Look, I know what you're doing, and it's not going to work. So drop it. What's the next thing on the list? Cheerios. Just help me find the Cheerios so we can—
What do you mean, "Fuck the Cheerios?" Honey, listen to me, the sooner we get out of here, the sooner you'll stop embarrassing yourself in front of a store full of strangers with your inappropriate behavior and ill-informed opinions on novelty-rock revivalism. Okay? So go find the Cheerios.
"LOVE Shack"? Why would you even bring UP "Love Shack"? That was an MTV hit in, like, 1989. That is completely outside the range of this discussion, honey. Unless we're talking about a recording where the name Chris Blackwell or Rhett Davies is listed after the word "producer," then it's totally irrelevant. And that includes 1982's David Byrne–produced Mesopotamia EP. Why can't you get that through your head? Maybe if you weren't so goddamn stubborn all the time—
Oh, I'm the stubborn one? Great. I'm the stubborn one. Ha, that's a laugh. Uh, excuse me, hypocrite-check in aisle four? Who was the one who kept insisting last Thanksgiving that that stupid "You're not the only flame" song—which was a duet with DARYL HALL for chrissakes—was a legit Elvis Costello single? Huh? Who was that again? You ruined Thanksgiving for everyone.
For the last time, we are dropping this NOW. That security guard is looking at us. No, sir, we're fine. No need to call the manager. My wife here is just a little stressed out. And doesn't know anything about call-and- response-based American underground bands. Thank you. Carry on.
Okay, honey, we need milk…
WHAT? What did you just say? You're actually claiming Fred Schneider can't carry a tune? Oh, now you've just lost it. I hope they sell antipsychotics in this store, because you have gone right out of your mind. Could DARBY CRASH carry a tune? Could Mark E. fucking SMITH? So the man's a shouter. What does that have to do with legitimacy as a rock and roll vocalist? Yes, the B-52's are a rock band, dear—yes, it's "dance" music, but I would hardly—
I KNOW they combined surf-rock retro with early pop kitsch! I KNOW that! Why would you even feel the need to tell me that? That was the whole idea, you—
Can I finish my sentence? Are you gonna let me FINISH my fucking SENTENCE? Are you gonna—oh. Okay then. No, no, go ahead. I'll just stand here next to the English muffins and listen to you do all the B-52's talking, then. You always do anyway, so go ahead. I'm listening.
Great. Your old standby about how I like Warren Zevon. We're back to his self-titled second LP again, are we? Yes, dear, I realize the Eagles did the backing vocals on "The French Inhaler." That doesn't mean it's not a classic record! JESUS! NO, you are not roping me into DEFENDING the Eagles, okay? You've pulled that one too many times, sweetie—TOO many TIMES!
Look, final word, and then I'm pushing this cart over to the produce section, with or without you. The first two B-52's LPs—yes, BOTH of them—are CLASSIC FUCKING RECORDS and EVERYBODY who has ANY taste in music AT ALL knows that and this is NOT something I am going to fucking DEBATE with you or anyone else in this store. END of discussion. END OF DISCUSSION, Helen! Helen? HELEN—
FINE! YOU do the goddamn shopping, then! I'm going to the car. And YES, I will be CRANKING "Quiche Lorraine" on the stereo when you get there and I'd better not hear ONE WORD from you about it or I swear to God you are never borrowing any of my remastered Robert Wyatt reissues EVER again! GODDAMMIT! EVERY FUCKING TIME WITH YOU, woman! Congratulations, Helen! YOU WIN! Are you happy now? YOU WIN AGAIN!