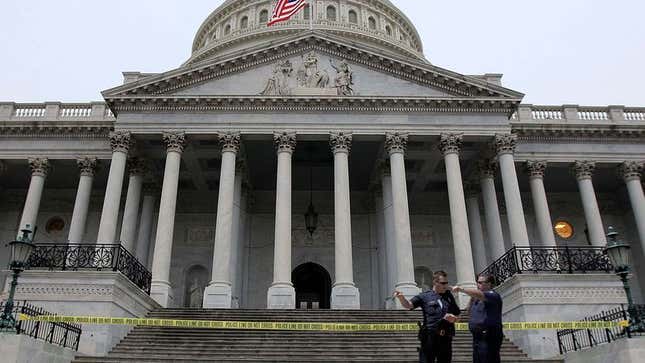 WASHINGTON—Describing it as one of the most disturbing scenes they have ever been called upon to investigate, horrified officers from the Washington Metropolitan Police Department told reporters Wednesday they had found an unresponsive legislative body in the U.S. Capitol building.
At approximately 11:30 a.m., after receiving multiple tips from concerned citizens, law enforcement officials dispatched patrolmen to an address at the corner of East Capitol Street and First Street. According to police sources, many of those who entered the building were overwhelmed by what they discovered inside, and onlookers reported that officers walking out of the property appeared visibly shaken and pale.

"Responding officers found the lawmaking body on the floor of the congressional chambers, completely rigid and making no movements of any kind," said Chief Detective Mike Logan, explaining that it was evident to those on the scene that efforts to revive the subject would be futile. "In addition to being completely inert, the body showed signs of advanced decay."

"I personally can say that during my time in this city I've never seen anything as deeply unsettling as this."
"Preliminary forensic tests suggest it has been in this state for months, perhaps even years," he added.

Upon learning what transpired in the Capitol building, residents admitted they were saddened but ultimately unsurprised given the bicameral legislature's condition in recent years. It had reportedly begun to display symptoms of deterioration, not just moving slower, but exhibiting decreased problem-solving skills, poor judgment, and an inability to complete routine tasks.

"Obviously, no one wants to see something like this happen, let alone see it up close," said Logan, adding that it was especially gut-wrenching knowing that such an outcome could have likely been easily prevented if appropriate actions had been taken sooner. "A lot of the guys on the force are still dealing with this. It's hard to look at a thing like that, especially when you know there's nothing you can do about it now. It's the kind of thing that stays with you."

"I personally can say that during my time in this city I've never seen anything as deeply unsettling as this," he continued.

At press time, detectives stated that as many as 220 million eligible voters were currently being investigated as possible suspects in the case.