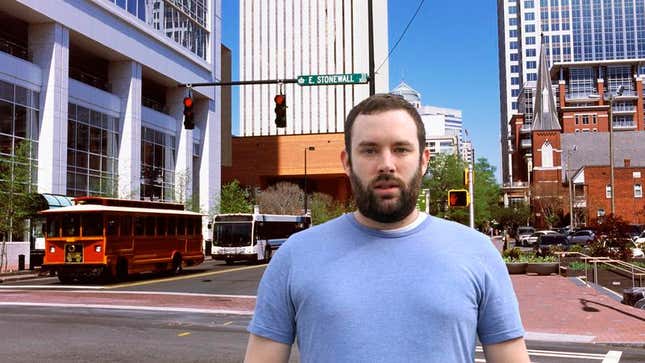 CHARLOTTE, NC—Suddenly stopping in his tracks as he boarded the Lynx blue line to go apply for a library card on Tuesday, local man Mark Collier came to the horrifying realization that he was putting down roots in the city of Charlotte, NC.
FBI Investigating Fourth-Grade Kid Who Said He Has Seen Over 200 Dead Bodies
"Wait, hold on a second, am I…am I building a life for myself in Charlotte, North Carolina?" Collier said as it suddenly dawned on him he'd recently renewed his membership at a gym in downtown Charlotte for another year. "No no no, this can't be right. I'm not settling down and making a go of it in Charlotte. Am I?"
"Christ, I just bought a bureau for my apartment in Plaza Midwood," he continued. "What is happening?"
Collier, 31, who moved to Charlotte two years ago to take a job at a digital marketing agency, told reporters it just became terrifyingly apparent to him that, if asked, he could now easily give strangers accurate driving directions in or around the Charlotte metro area or offer recommendations on the Queen City's bars, shopping malls, art galleries, public parks, or concert venues.
G/O Media may get a commission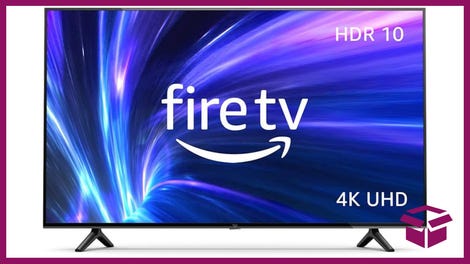 42% Off
Amazon Fire TV 50" 4K Smart TV
As it suddenly became clear that the majority of his wardrobe had been purchased at the South End Super Flea, a disturbed Collier realized that he could also consider himself a "regular" at not one, but three Sizzlin' Saturday food carts, each of which know his name and preferred order.
In addition, it hit Collier that he actually has strong, informed opinions about the job Patrick Cannon has been doing as mayor so far.
"Oh God, I think I'm starting to become an active and engaged member of the Charlotte community," said Collier, shuddering at the thought of being only seven months from having to get a North Carolina driver's license. "Over the holidays I went to the annual Holiday Afternoon Tea event at the Ritz-Carlton in Uptown Charlotte and without missing a beat I thought, 'This should be a new tradition I do every year at Christmas.'"
"I've actually asked friends to come visit me in Charlotte," he added, looking straight ahead, dead-eyed. "I've said the words, 'If you're ever in the Charlotte area, we should meet up.' And then after that I said, 'I can show you around the city.'"
According to Collier, putting down roots in Charlotte "just kind of snuck up on [him]." What started with minor occurrences such as having to change his default mailing address on Amazon quickly grew into something much more involved as he was summoned for jury duty at the Mecklenburg County Courthouse and started considering U.S. Airways his "preferred airline" because it had a hub at CLT.
Earlier this fall, he even attended a Charlotte Bobcats game and heard himself say the words "let's go 'Cats!" while clapping.
"If I'm ever getting out of here, time is running out," said Collier, realizing that he was coming up on two years together with a girl who was born in Charlotte, grew up in Charlotte, and by any reasonable estimation probably wanted to stay in Charlotte. "Unless this is, somehow, actually the city where I want to plant roots and settle down. Is that possible? I don't see how that can be possible."
"Although, that being said, you gotta love Freedom Park in the springtime," Collier added. "Just gorgeous."