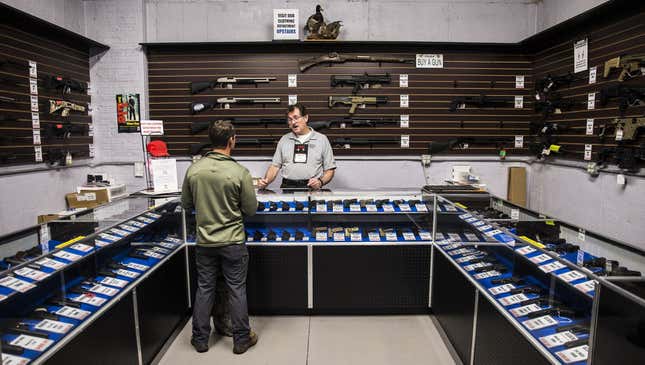 With gun violence in the United States rising to unprecedented levels, many lawmakers have pushed to expand federal background checks for the purchase of firearms. Here's how background checks are currently conducted:
Step 1: Second Amendment rights violated.

Step 2: Applicant uses Form 4473 to lie about previous drug use.

Step 3: Records of applicant's felony history submitted for review if state of South Carolina feels like it.

Step 4: Close friends and family are interviewed by federal agents in order to understand the buyer's true sense of identity—their hopes, their dreams, their fears, and their general perception of their core essence or "self"—a deeper insight that no set of paper forms could ever achieve.

Step 5: Applicant fills out lengthy form detailing their mental health history and future.

Step 6: Proprietor of Carson's Pawn & Guns entrusted with entering buyer's info into federal Criminal Background Check System.

Step 7: FBI shamans check the buyer for any spiritual health issues during a two-day ayahuasca ceremony.

Step 8: Anyone seeking to buy a military grade automatic weapon or assault rifle is required to wait until the firearm dealer unlocks the case and hands it to them.

Step 9: Any applicant who is denied from purchasing a weapon at a Federal Firearms Licensee attends a regional gun show.

Step 10: Customer politely thanked for choosing to purchase firearm through legal means.

This Week's Most Viral News: September 22, 2023