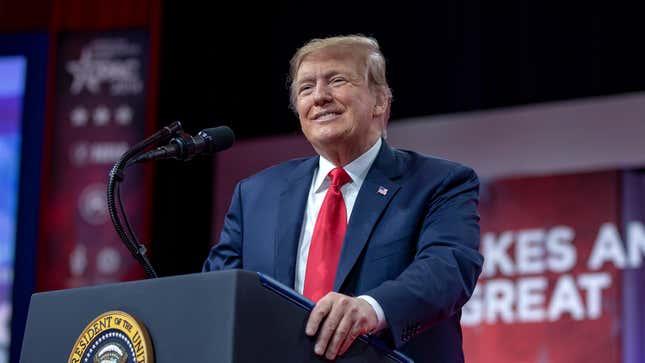 Many top Republican elected officials, including Senators Lindsey Graham and Ted Cruz, went from criticizing Donald Trump during the 2016 election to becoming some of the president's staunchest supporters. The Onion takes a step-by-step look at how many of Trump's GOP detractors become his biggest cheerleaders.
This Week's Most Viral News: September 22, 2023
---
STEP 1:
Cable news invented.

---
STEP 2:
Discover constituents prefer loud vocalization of hateful beliefs over their quietly acting on them.
---
STEP 3:
Democrats nominate a woman.
---
STEP 4:
Flattered when Trump almost gets their name right.
---
STEP 5:
"Lock Her Up" chant a total earworm.
---
STEP 6:
Trump embraces classic Republican Party values like tax cuts for billionaires and impunity for groping women.
---
STEP 7:
Realize there's no backing down at this point.
---
STEP 8:
Stop worrying that approving Trump's policies would ruin legacy after observing how that didn't happen when John McCain died.
---
STEP 9:
Concede it was actually pretty funny that Trump gave out a critic's phone number at a rally.
---
STEP 10:
Figure you're quitting for a lobbying job in two years anyways, so fuck it.