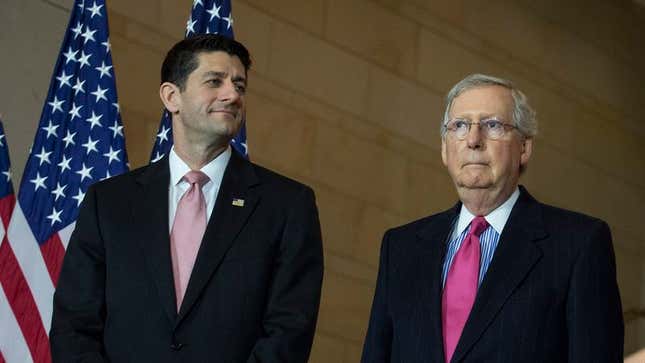 Congressional Republicans have repeatedly stated their intention to repeal and replace the Affordable Care Act soon after Donald Trump takes office. The Onion outlines how that process would work.
This Week's Most Viral News: September 29, 2023
---
STEP 1:
Bring witnesses to congressional hearing to testify about the horrors of being able to afford their cancer treatment
---
STEP 2:
Obama forced to watch as Mitch McConnell shreds each individual page of the Affordable Care Act in front of him
---
STEP 3:
Hold press conference to remind Americans we all have to die sometime
---
STEP 4:
Draft new healthcare bill with, uh, vouchers, maybe? Yeah, vouchers sound good. Put them in there.
---
STEP 5:
Double-check to make sure there's no women stuff in there
---
STEP 6:
Obstruct new healthcare bill a few times purely out of habit
---
STEP 7:
Do a quick 30,000-page copy edit
---
STEP 8:
Part where 20 million people lose health insurance
---
STEP 9:
Republican leaders take celebratory photo with bunch of sick Americans who can no longer afford treatment
---
STEP 10:
Guy with red lump on thigh guesses he'll just wait and see
---
STEP 11:
Paul Ryan goes home and hugs family with firm belief he has done good and important work