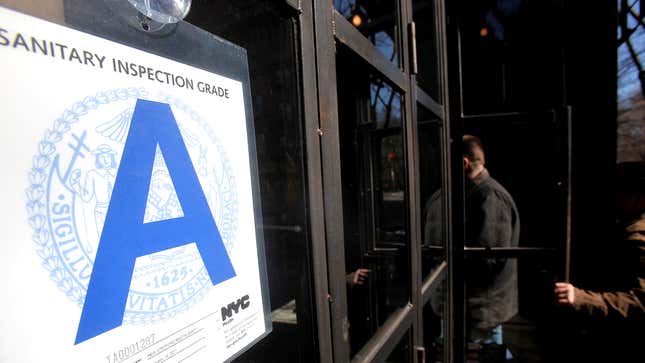 Many diners make decisions about where to eat based on a restaurant's health inspection grade, but may not know exactly how inspectors arrive at their scores. The Onion provides a primer for how restaurant inspection grades are calculated.
This Week's Most Viral News: September 29, 2023
---
STEP 1:
Inspector jumps out of restaurant dishwasher to begin surprise inspection.

---
STEP 2:
Inspector walks floor of dining room and deducts points for audible crunching of millipedes.

---
STEP 3:
Single white glove pulled onto hand, slid under counter to check for levels of dust.

---
STEP 4:
Cockroaches evaluated for carapace sheen and speed.

---
STEP 5:
Inspector checks if any ingredients are past their expiration date, but it's okay if it's, like, a few days past the date, because they just put that there to scare you into buying more anyway.

---
STEP 6:
Extensive interviews conducted with widows of prior health inspectors.

---
STEP 7:
Restaurant given chance to earn extra credit by writing essay on what food safety means to them.

---
STEP 8:
Otherwise-perfect inspection failed at last minute due to lobster latching onto inspector's nose.

---
STEP 9:
Restaurant given eight years to rectify violations.

---
STEP 10:
Sharpie used to change D grade to B+.