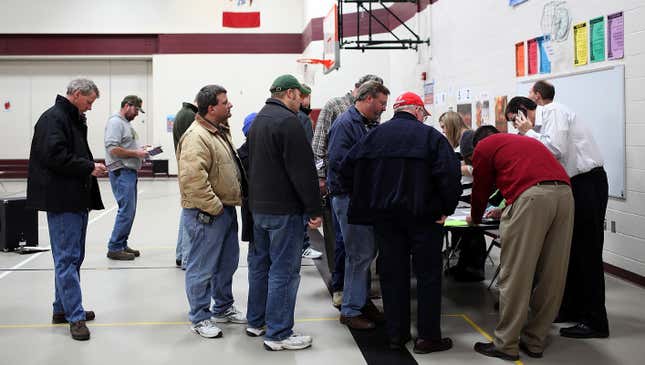 The votes cast in the Iowa caucuses on Monday night mark the official beginning of the 2016 election season, but the specifics of the state's selection process can be confusing to voters who don't live there. Here, The Onion answers the most common questions about how the Iowa caucuses work:
Q: What is a caucus?
A: A caucus is a system of voting for people who wish casting a ballot could be three hours longer and include being lectured to.
This Week's Most Viral News: September 22, 2023
Q: How do caucuses work?
A: Local representatives from each presidential campaign make impassioned speeches about which corner of the Grace Lutheran basement voters should stand closest to.
Q: What's the difference between a caucus and a primary?
A: In a primary, the presidential nominees are chosen by the 6 percent of eligible voters who bother to participate, while in a caucus, the nominees are chosen by the 2 percent of eligible voters who bother to participate.
Q: Why do the Iowa caucuses matter?
A: They provide the first real gauge of whether candidates have been worthwhile investments for corporate and individual megadonors.
Q: Who can attend the Iowa caucuses?
A: Registered party members Level 7 or higher.
Q: How many precincts are there?
A: There are 1,681 official precincts, though there are rumored to be thousands more off the books.
Q: How are winners determined?
A: At the end of the night, votes from all precincts are placed in a jar together, and whichever candidate comes closest to guessing the total number of votes is awarded the state's delegates.
Q: How can I find my closest caucus location?
A: Place a child of hearty disposition upon the palisade where the woodcock nests. By dawnbreak, you shall have your answer.
Q: When do they start?
A: At the sound of my whistle.
Q: When will we know the winner?
A: Once all the voters have gone to bed, results will be tabulated and left under each constituent's pillow for them to find in the morning.
Q: Will I have the opportunity to say "Aye" or "Nay"?
A: Oh, boy, get ready!
Q: How do I engage with other people at the caucus?
A: Just go right up and talk to them. No need to be shy; just say who you are and be yourself. You'll do great!