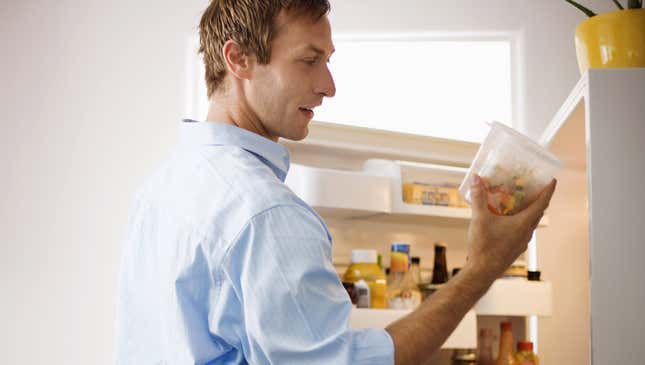 The Onion provides tips for everyday ways to reduce food waste, helping both the environment and your budget.
This Week's Most Viral News: September 29, 2023
Avoid impulse buying by only going to the grocery store for one ingredient at a time.

Hire an impoverished family to sit at your dinner table and guilt you into eating every last morsel.

Make sure to eat the oldest items in your fridge first, as listeria will deter you from additional grocery purchases for the next seven to 10 days.

Stick to foods you're most likely to finish by living entirely off of hot wings.

Restaurants often have portions big enough for two. Split an entree or take home leftovers rather than swiping the rest of the meal onto the floor.

Instead of buying a whole tub of strawberries and an entirely new can of whipped cream, use the remaining half can of tomato paste, last serving of chicken piccata, or whatever other leftovers you have in the fridge to spice up your love life.

During stakeouts, don't throw any half-eaten pizza slices out the window of your cruiser before initiating a car chase. Save them for later in a tightly sealed Tupperware.

Try not to prepare more food than you can eat, unless you are entertaining the Lady Carroway for supper and must impress her with your bounty.

Make use of expired food by reaching out to any neighborhood kids who can be dared to eat it for a few bucks.