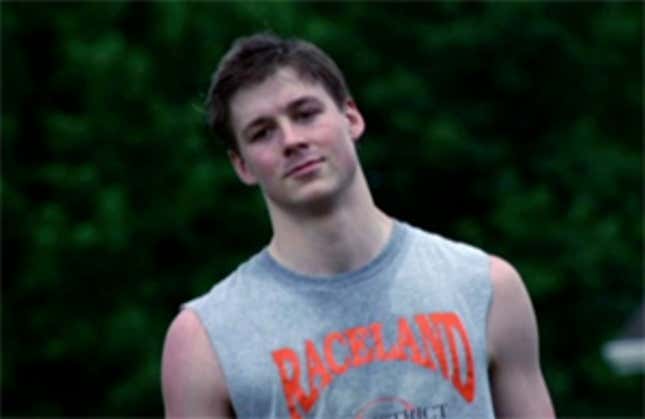 Health Authorities From Pennington, IL have released this list of tips for parents of children who may come in contact with handsome Pennington High student Cody.
This Week's Most Viral News: September 22, 2023
1) Start the discussion about sex with Cody early. Have age appropriate discussions with your grade schooler about Cody, because by the time she's in high school, Cody will be in his late 20s hanging by his motorcycle downtown and won't have lost one bit of his charm.
2) Make sure you are honest and open about your own feelings about Cody. Let your child know if you too have been tempted by Cody and that you understand what she's going through, but that she shouldn't have to have sex with Cody to earn Cody's respect.
3) Supervise your adolescents, especially on Thursdays when Cody gets out of wrestling practice early. Establish rules, curfews, and standards of expected behavior for when they're near Cody. Make sure to ask them when they leave the house if Cody's going to be where they're going. Ask them to check in with you periodically, so that you can listen for Cody's husky yet boyish voice through the phone.
—>—>
4) Find out what your child's friends think about Cody. Are your daughter's friends already sexually active with Cody? How many of your daughter's friends are carrying Cody's babies? These are questions you need to ask your daughter.
5) Build trust with your children. It's important that you build an honest, non-judgmental relationship with your child so that when she's ready to have sex with Cody, she will feel comfortable coming to you. That way, you can provide her with oral contraception because Cody says he has a latex allergy and can't wear condoms.
6) Know what your kids are reading, watching, and listening to. If she's listening to a CD from Cody's band, the Gun Stallions, it's too late. But, if it's a love poem that Cody wrote for her, then you're just in time, because he only writes poems for girls he hasn't gotten in the sack yet.
7) Have your teen spend a day with another teen who has already had one of Cody's babies. Seeing firsthand the effects Cody's newborn has on a real teen mother will help your daughter decide whether to go down to Pennington Pond with him after the game on Saturday.
8) Discuss the between drinking and sex with Cody. Almost 75% of teenage girls in the Pennington area became pregnant after Cody offered them a wine cooler that he stole from his mom's stash in the garage refrigerator.