Horrified Workers Watch As Colleague Torn Apart By Powerful Content-Gathering Engine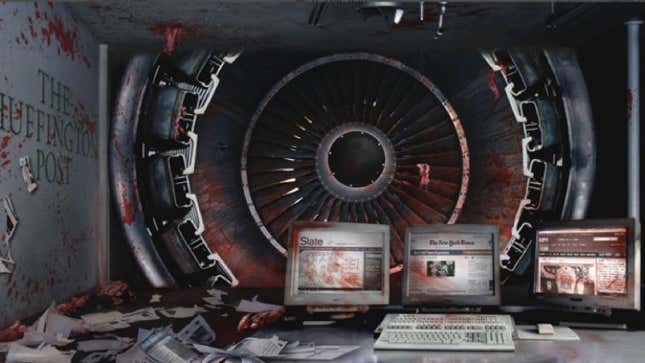 NEW YORK—Shocked and saddened witnesses at the Huffington Post's news-aggregation facility have confirmed that employee Henry Evers, 25, died Wednesday after being sucked into the website's powerful news-repurposing turbine, where his body was immediately torn to pieces.
The 200-ton content-compiling device, developed by Greek multimillionaire and site co-founder Ari­anna Huffington, sucks up original articles from around the web with its massive rotor assembly, re-brands them with the Huffington Post name, and then spits them back out on the company's home page.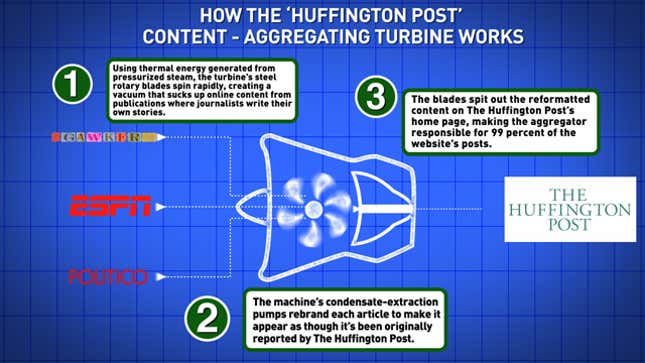 Workers said that when the machine ground to a halt at approximately 11:30 a.m., Evers reached inside to dislodge a particularly thoughtful 700-word Christian Science Monitor essay on the unrest in Syria that had become jammed.
Apparently unprepared for the aggregator mechanism's quick restart, Evers was gruesomely dismembered by its rapidly spinning blades, which soaked the room in blood and unprocessed news content.
"I heard this grinding noise, and then I saw all these Washington Post stories, sexy pictures of people in the workplace, and celebr­ity anti-vaccine editorials start to back up on the factory floor," said Huffington Post editor Emily Paxton, who monitors an array of computer screens displaying news sites like NYTimes.com and then presses enter on a keyboard, sending the content into the turbine, which through sheer axial force posts each piece on HuffingtonPost.com with a 30-word introductory paragraph. "Before I could stop him, Henry had his arm crammed way down in there. He pulled out an article, smiled, and the next thing I knew, he was sucked headfirst into the rotary casing."
"We couldn't shut it down," continued Paxton, adding that the smell of mutilated remains mixed with raw Internet media was gag-inducing. "If we had, it would have taken a full day for the technicians to reset it, and we couldn't risk missing a breaking story on Brody Jenner."
Since The Huffington Post was founded in 2005, its headquarters has consisted of two rooms: Arianna Huffington's spacious, lav­ishly appointed office overlooking New York City, and the windowless 10,000-square-foot subterranean warehouse that houses the turbine. More than 700 low-wage workers, known as writers, clock in every day, and, dressed in their Huffington Post hard hats and coveralls, work in dark, unsafe conditions to ensure the machine runs smoothly and constantly churns out content.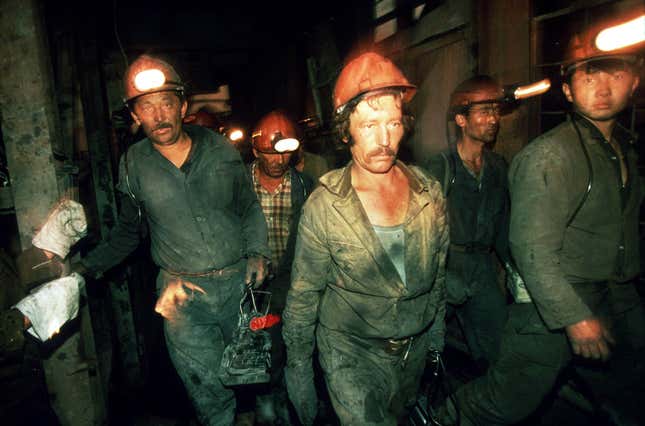 Operating at 5,100 rpm, or the equivalent of 2,500 online articles and videos per minute, the turbine uses its massive power to sweep the Internet for stories or photos that ensure HuffingtonPost.com receives enough page views and mouse clicks to appease advertisers.
Though Evers had worked with the com­pany for 11 months, reports indicate he was unaware the turbine often overheats and malfunctions when tasked with posting an article of more than 400 words.
"Evers was pulverized," said Aaron Thomas, a spokesperson for the Occupational Safety and Health Administration. "There was no way to identify him. No dental remains, no hair samples, just eyewitness reports and 17 cell-phone camera videos that the turbine immediately threw up on the site under the tags 'Funny' and 'OMG.'"
"In a way, though, maybe it's a good thing he was ripped to shreds and killed," added Thomas, later saying that because The Huffington Post didn't provide Evers with health insurance, he wouldn't have been able to afford his hospital bills, anyway. "Working the HuffPo turbine is no way to live."
According to sources, editor-in-chief Ari­anna Huffington appeared shaken after the incident, asking if the turbine was broken, if it would need to be replaced, and if the horrific accident would affect the posting of a "Worst Hair In Hollywood" celebrity feature.
"When you harvest as much content as we do, there are bound to be some fatalities," Huffington said in a statement. "That's just part of the job."
Representatives from the website said that to honor Evers' memory, they planned to post a slide show titled "25 Funniest Animal Photobombs We Think Henry Would Have Loved" as early as tomorrow.