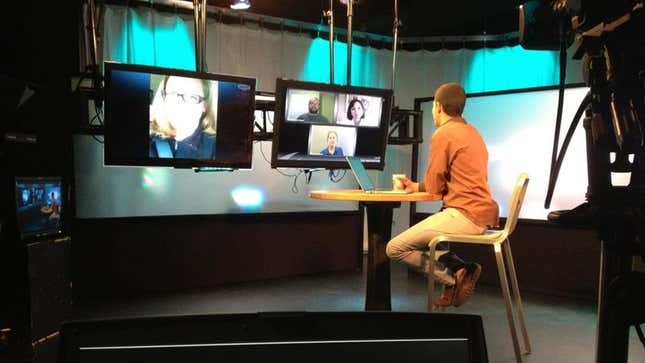 NEW YORK—This week The Huffington Post officially launched some sort of new thing, which company representatives said will provide an exciting, revolutionary new way for users to do something or other.
This Week's Most Viral News: June 9, 2023
"We are proud to provide users with this brand-new type of thing," the website's co-founder Roy Sekoff said during the live debut of the thing that apparently exists now. "All of us at The Huffington Post have been hard at work making this, so here it is: a new thing."
Added Sekoff, "We are very proud of what we did and hope that our users can take full advantage of whatever it is this thing has to offer."
The new thing, which sources supposed is either going live or has already gone live, was designed to be used in one way or another and features hosts talking about some news stuff with guests (?) but also features a social component that allows people to talk to one another or something.
Since the launch of the thing, a number of users are reported to be using its video features, which apparently enable people to do things with Skype and this other thing made by Google a little while ago.
"The new thing is online, and I'm pretty sure I used it, or watched it, or whatever," said frequent Huffington Post visitor Michael Dailey, who confirmed that the thing is in fact there. "I looked at a screen for 45 seconds or so and saw some people on web cams or something talking. I'm not sure who they were. And I guess it was supposed to be streaming or interactive in some way?"
"I don't know," Dailey added. "Something like that."
So far, it is too early to tell how users will respond to the new thing, but web experts have said that whatever ends up being influenced by the Huffington Post's thing, it will probably be other sorts of things.
"If there's one thing we know for sure, it's that this is definitely a thing of some kind," Slate's tech reporter Rory Aderhold said. "People can go online and use the thing, and they can also not use thing, for that matter."
"Anyway, this is a thing," Aderhold continued. "We can safely say it is an extension of the Huffington Post's main web site that also does things."
As of press time, it is still unclear what the Huffington Post's thing actually is, but apparently it's like the future of journalism or something.