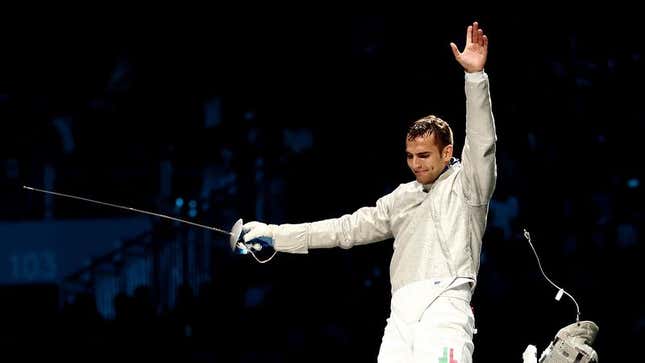 LONDON—Fifth-seeded Hungarian fencer Aron Szilagyi pulled off a stunning upset Sunday, winning the gold medal in the individual saber event with a 15-8 victory over Italy's Diego Occhiuzzi that—ugh, for Christ's sake, there's another whole goddamn week of this Olympics crap?
This Week's Most Viral News: September 29, 2023
Szilagyi, who finished 15th at the Beijing Olympics, dominated the first period of regulation, taking a 7-0 lead and setting the tone for the remainder of the final by—fuck it all to hell, it's impossible to stomach one more second of this tedious nonsense.
"This is unbelievable—I'm so happy and proud right now," said Szilagyi, who, big surprise, uttered the same exact banal horseshit as every other victorious Olympian. "I'll never forget this moment."
"It's a dream come true," added Szilagyi, enunciating the trite sentiment that has already been declared about 15 billion times during this Olympics.
The lone representative from Hungary in a field of 36 competitors, Szilagyi is ranked sixth in the world by the International Fencing Federation, but the 22-year-old underdog was unstoppable on his way to the winner's podium as, oh God, please take pity and make these irritating, tiresome, and drawn-out Olympics stop right now. If you're some kind of all-powerful deity it should be no problem at all to shut this shit down, sources confirmed.
According to Olympic records, Szilagyi's unlikely victory marks the first time Hungary has won a gold medal in fencing since nobody fucking cares.
In addition to Szilagyi's shocking triumph in fencing, American Jordyn Wieber rebounded from her devastating elimination from the all-around gymnastics finals to lead the United States to gold in the team competition and provide just the most heartwarming moment for oafish broadcasters to gush incessantly about camaraderie, determination, and memories with a slew of vapid and syrupy remarks.
"I've worked all my life for this moment [please stop talking]," Wieber said. "We [put a sock in it] believed in ourselves and knew we could accomplish [you cloying little shit] our goal by working together."
The inspirational moments, however, took a backseat to a scandal that rocked the games and resulted in the disqualification of eight female badminton players and nobody reportedly gives a shit, really, it's just badminton, and there are a hundred other dumbass sports with nets and things. Sources confirmed the Olympic coverage of the expulsions would just drag on and on and on with no merciful end in sight.
After winning their first two matches in London, U.S. beach volleyball players Kerri Walsh and Misty May-Treanor lost their first-ever set in the Olympics, ending a 32-set winning streak that sweet fucking Jesus, it's hopeless, forget it, this monotonous and horrifying nightmare is never going to be over.
As of press time, an imponderable number of forgettable accomplishments, flat jubilation, insipid comments, and bland observations are slated to recur countless times during the unfathomable abyss of Olympic events scheduled for the next seven goddamn miserable cock-sucking assholes days.
"It was really an honor to—" a kayak slalom participant said before reporters walked away because we're done talking to people who do things called kayak slalom.