CINCINNATI, OH—After a hard night promoting Heineken at a local bar, junior marketing associate Jason Schweiber, 23, spent Monday morning nursing a hangover and trying to remember what he'd said about Heineken the night before.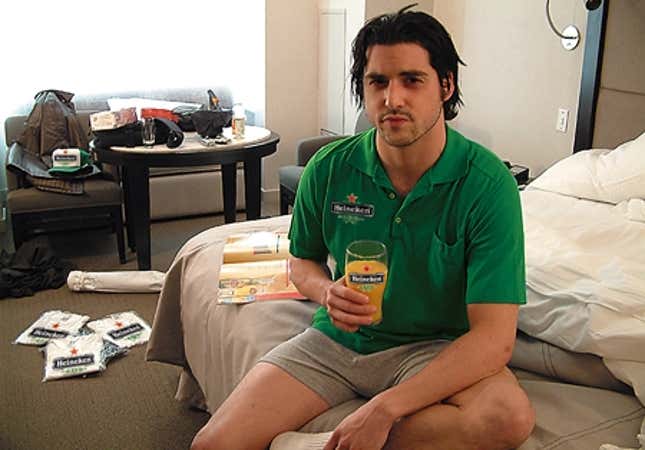 This Week's Most Viral News: September 22, 2023
"When I woke up, all of my business cards were gone, along with the entire box of promo mugs, all the Heinie logo hats, and about half the Heineken sampler CDs," Schweiber said from his room at the Sheraton hotel. "I know I was talking about Heineken the whole night, but what was I saying? It could've been anything."
"Was I talking about the great taste of Heineken and the awards it's won?" Schweiber added, rubbing his temples. "Was I telling people to check out the Heineken web site? Was I talking about Heineken concert events? I really hope I didn't make a fool of myself or Heineken."
At the event, held at The Wrecked Spoke, Schweiber promoted the release of the Heineken Music Initiative's Red Star Sound Presents Def Jamaica Vol. 3, featuring music by Method Man and Redman, Scarface, and Ghostface Killah. The following morning, while squinting at the sunlight beaming in through the window, Schweiber began to reassemble his fragmentary memories from the night before.
"I was walking around to all the tables, handing out sampler CDs," Schweiber said. "I hate to be without a Heineken in my hand, lest someone think I don't stand behind the beer, but I must've drunk eight or nine bottles in about three hours last night. Maybe more. I wasn't really keeping track. All I know is, when I got up this morning, I had one hell of a headache, every last Heineken beach chair was gone from the trunk of my car, and there were about 20 Heineken Green Room stickers stuck to my pants."
Schweiber, who said he's "never been much of a drinker," first began to consider a career in promotions in November 2003, when he met a Heineken recruiter at the University of Michigan campus job fair. After graduating with a marketing degree in December, Schweiber began to work for Heineken full-time. He currently spends two weeks out of the month on the road, raising brand awareness for the Dutch beer through promotional events at bars, concerts, fairs, and sporting events.
"Last night started out normal enough," Schweiber said. "I was making the rounds, schmoozing. As time wore on, though, I started to lose it. At some point, I was telling this old guy all about Heineken's authentic brewing vessels, and I realized I was shouting. See, I'd been in a rush to get to the event and never ate dinner. I'm sure that's why I got so wasted."
Schweiber said his judgment was "severely impaired" when he began to conduct the Heineken trivia contest.
"I was being really obnoxious with the mic as I read off the questions," Schweiber said. "For some reason, I was imitating a boxing announcer, and going, like, 'And in this corner we have Heineken…' Then I was rapping about Heineken, but I can't recall any of the lyrics. I also remember stopping the contest so I could go to the bathroom."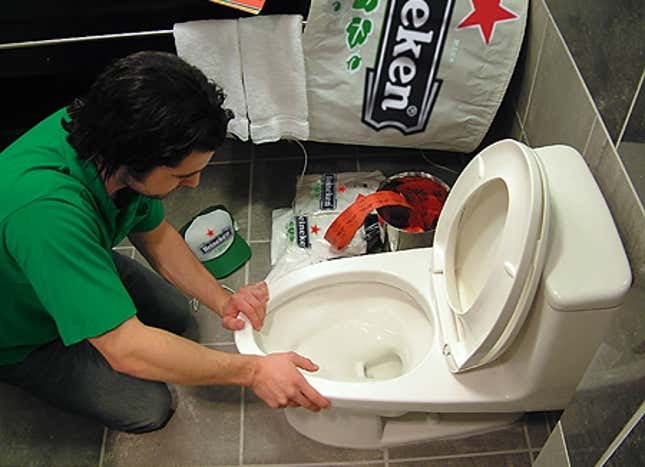 "Merch was flying everywhere," Schweiber continued. "I wasn't even looking for correct answers to the quiz. I was just throwing out T-shirts to whoever yelled the loudest. And that box of black breast-pocket logo T's was supposed to last me until Dayton."
Schweiber said that, in his impaired state, he started to "spew God-knows-what about Heineken."
"I'm pretty sure I told this table of women all about Heineken's purity and its blend of hops," Schweiber said. "I remember talking to these businessmen about how Heineken is sold in more than 170 countries, making Heineken the largest exporter of beer in the world. I don't think I told very many people about the CD, though, and that's the main reason I was there."
Near the end of the evening, Schweiber went to the bathroom to splash cold water on his face, but ended up vomiting.
"I hope no one else was in the bathroom," Schweiber said. "I don't think my actions reflected Heineken's message of responsible drinking."
Wincing as he caught a whiff of his coat, Schweiber remembered another incident that gave him pause.
"Someone bought me a shot," Schweiber said. "It was something minty—Rumpleminze, maybe. I should have said no, but I wasn't in any condition to turn it down. At least it wasn't another kind of beer, so there wasn't any conflict of interest there. Thank God no one from the company saw me in that state."
Choking back nausea as he packed his suitcase in preparation for a drive to Akron, Schweiber recalled another thing he had said about Heineken and cringed.
"At one point, I yelled out something like, 'Who wants a stupid Heineken mug?' Schweiber said. "I wasn't even that drunk when I said that. I was just trying to impress a group of guys. But I should have let the glass speak for itself. There's nothing stupid about it. It's a quality pint glass with a nice Heineken logo."
Added Schweiber: "Next time, I'll remember that, when I'm wearing that Heineken polo, I'm representing the brand."