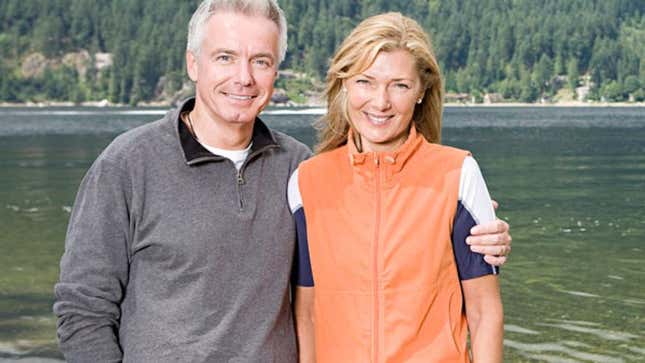 SARASOTA, FL—Through the ups and downs of raising four children, years of financial hardship, and all the stresses and turmoil of daily life, claims adjuster Arnold Schneider has stayed true to his wife of 42 years, despite his most determined efforts to engage in sexual intercourse outside of wedlock.
104-Year-Old Man Awarded WWII Medal Just To Be Nice
"I could never be unfaithful to Helen," said the 63-year-old Schneider, who over the past four decades has unsuccessfully attempted extramarital relations with dozens of friends, acquaintances, work colleagues, and random strangers. "Sure, there have been some tough times, and we all have moments of doubt, but Helen is the woman I love."
Added the man who has attempted to trade his wife in for the first willing female participant hundreds of times over, "Even I'm amazed by that sometimes."
According to sources close to the couple, Schneider has remained grudgingly loyal and devoted to his wife from the very beginning, failing time and again to cheat on his unsuspecting bride during their honeymoon together in Acapulco.
"I'll never forget Mexico—the beaches, the stars, the amazing food and people," said Schneider, who, as his new wife lay sound asleep in bed, would routinely sneak out of their hotel room and try in vain to hit on the young cocktail waitress tending bar downstairs. "It was perfect. Pretty much almost perfect."
Over the next decade, Schneider remained faithful to his wife by default, repeatedly coming up short during his regular jaunts to singles clubs, at neighborhood key parties, and through the general freewheeling sexual bacchanalia of the 1970s.
"It was a crazy time and a lot of my friends didn't think twice when it came to breaking the sacred bonds of marriage," said Schneider, who despite throwing himself at any available woman in his presence, completely failed to capitalize on his adulterous tendencies. "But not me. No sir."
"Not even once," Schneider added with a heavy sigh.
Despite being left with no choice but to stay committed to his marriage, the reluctant husband and father admitted that being loyal wasn't always so easy. With a growing family and increased tension at work, Schneider said there were times when he could have taken comfort in the arms of another.
"Yes, there were moments when I found myself on the verge of the unthinkable," said Schneider, who once drove 300 miles to meet an old girlfriend from high school, only to be flatly rejected by the woman and have coffee thrown in his face. "Still, for one reason or another, I just couldn't go through with it. And when it was all over, I could look myself in the mirror and say, 'Forty-two years, and you've never been with anyone besides your wife.' Forty-two goddamn years."
Schneider acknowledged that even in less troubling times he occasionally felt restless after four decades with the same partner. But whether he was being stood up by the woman who answered his personal ad, or unsuccessfully attempting to persuade his wife's more attractive sister to visit a clothing-optional spa, Schneider said that what mattered most was that he never once wavered.
"Heck, I've got eyes, and I'll notice a pretty face just like anyone else," said Schneider, who at press time was still hoping to hear from a pancake house waitress he had given his business card to three weeks earlier. "But what can I say? There's an ultimate line Arnold Schneider just can't cross. I'm not even sure I'd know how, to tell you the truth."
For her part, Helen Schneider said she had no doubt that, through it all, her husband has always been faithful.
"Maybe I'm naïve," Helen said, "but I've known this man most of my life, and I just can't imagine him cheating on me. Honestly, Arnie's my little saint."