GLENDALE, AZ—With their hilarious put-downs of each other and classic back-and-forth bickering in front of neighbors, local married couple David and Sheila Holt are quietly becoming one of Glendale's favorite comedy teams, sources reported Monday.
Though David and Sheila remain unaware of their comedy duo status, friends and family members maintain that the couple's uproarious act, including their famous "It's all your fault—this whole stupid mess is your goddamn fault" routine, is more than enough reason to check them out.
This Week's Most Viral News: September 29, 2023
"They're like the perfect odd couple," said neighbor Michael Pecore, a self-described fan, who has watched the Holts perform countless times from his living room window. "Whether they're arguing over home mortgage payments, or delivering one of their trademark 'Jesus Christ, what more do you want from me?' zingers, David and Sheila never disappoint. I can listen to them all night long from across the street and not get tired of it."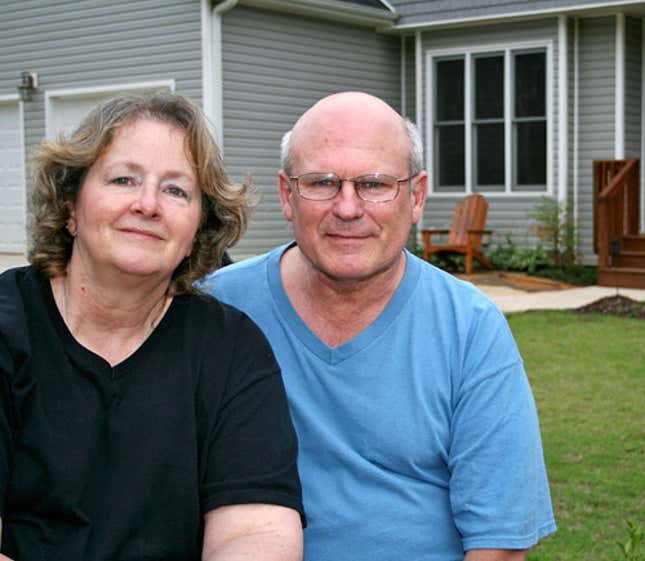 According to neighborhood sources, David and Sheila are best known for their rapid-fire exchanges, impeccable timing, and ability to play off each other's insecurities for hours on end. Witnesses claim the duo also excels at a wide variety of comedic styles, from observational musings on why the godforsaken lights are always on in the house, to more slapstick fare, such as the time Sheila threw David's new rotary saw into the pool.
The married couple also often works blue.
"They do this thing where they're having a fight and both of them are yelling at each other, but they're each yelling about completely different things, and, like, they don't realize it the entire time," said close friend Samantha Meyers, who has attended a number of dinner parties at the Holts' home. "I think I've seen that one bit maybe 10 times now."
In addition to their sidesplitting, off-color fights, David and Sheila are famous for several different characters they play. These include Sheila's my-mother-was-right-about-you-all-along homemaker and David's boozy drunk, a reoccurring character who comes home late from work, spends the next three hours silently consuming alcohol in the den, and finally tumbles down the stairs before uttering his wry catchphrase, "Fucking life."
"Sometimes it's not so much what they say, but more their physical mannerisms that crack me up," said Harold Baker, a mailman who often passes the married couple's home on his route. "Last week, Sheila was in the driveway and she asked David if he had remembered to check on the dryer like she asked, and well, David shot her this deadpan look that was absolutely priceless."
"I like David," Baker continued. "He's my favorite."
The husband and wife team, together now for almost 20 years, reportedly performs all around the Glendale area. In the past month alone, David and Sheila have done their act in the dairy aisle of a nearby supermarket, in line at the bank, and wherever David happens to bring up the fact that other men don't have to spend every waking moment next to their suffocating wives.
"They were doing all their tried-and-true stuff at Home Depot yesterday," said Steven Weathers, an employee at the home improvement store. "You know, the old 'push the cart where I need you to push the damn cart' number, and that great bait-and-switch thing where David says he has to use the bathroom, but then takes off for half an hour."
"Well, I was watching them, when all of a sudden they roll out this amazing new bit," Weathers continued. "I don't remember it exactly, but it started with Sheila accidentally dropping a vase on the ground, and then, I think, David, he just lets out this monster sigh, which makes Sheila really angry, so she—and this is the crazy part—slaps him in the face, and David looks at her, and he's almost crying, and he says, 'I want a divorce. I'm not happy. I haven't been happy for years.'"
Said Weathers, "Man, how do they come up with this stuff?"
Despite their popularity, rumors about the couple's future have spread in recent days, with some even speculating that the legendary twosome may be thinking about calling it quits.
"I can't believe they're breaking up—they were so great together," neighbor Michael Rosenbloom said. "I wish I had known they were having problems. I probably could have done something to help."