NEW YORK—Overcoming frigid temperatures and biting winds, a team of husky puppies overpowered and trounced the opposition Sunday during Puppy Bowl X, the first ever cold-weather Puppy Bowl.
As temperatures dropped into the low twenties, puppies attempted to stay warm on the sidelines by wearing thermal dog sweaters and absolutely precious little booties. However, while most puppies were shivering and loudly whimpering, the huskies appeared fully at ease in the cold, dominating pawssession and controlling the clock by keeping the five squeaky footballs on the ground for most of the adorable contest.
"The huskies were clearly the hungrier puppies today, and it showed—with their size, power, quickness, and thick, fluffy coats of fur, they were able to put together some great aww-ffense out there," said Puppy Bowl play-by-play announcer Scott Graham, noting that the other puppies simply weren't prepared for the harsh winter climate of New York. "The Beagles, Dachshunds, and Corgis were just begging to go back indoors, standing on their hind legs and tapping their paws against the stadium's screen door. But not those huskies—they were bred to play in these conditions."
"The elements truly made this a Puppy Bowl for the ages," Graham continued. "This is what real wet-nosed puppy football is all about."
Nutmeg, a Siberian husky later named the game's Most Valuable Puppy, set the tone early by loudly barking orders at the line of scrimmage and setting other dogs in motion with various growls and animated tail wags. The white-furred 3-month-old employed a hurry-pup offense to devastating effect, moving the ball into the other dogs' marked territory with incredible ease and efficiency.
G/O Media may get a commission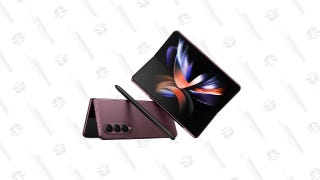 Save Up to $300
Galaxy Z Fold4
The game's first big moment came at the start of the second quarter when, despite decreasing visibility and swirling gusts, 15-week-old star husky Oscar opted against a fair-fetch on a botched pooch kick and ran the blue rubber chew toy from inside the 10 yard line all the way for a touchdown. Oscar then had a 40-yard touchdown trot overturned after replays from a water bowl camera showed his front paw stepping just out of bounds at the 1 yard line, but the spry young pup subsequently rolled over into the end zone on the following play.
The opposing puppies were given a glimpse of hope after Nutmeg was forced to leave the game midway through the second half, but the eager little husky returned promptly after trainers reportedly took him for a walk around the block.
"People were complaining when we first announced that this year's Puppy Bowl would be played in the Northeast, but I think today showed that those concerns were totally unfounded," Animal Planet president Marjorie Kaplan told reporters shortly after delivering the coveted Lombardi Treats to the victorious huskies. "This will hopefully be the first of many thrilling Puppy Bowls at cold-weather sites across the country."
Despite Puppy Bowl X's success, the decision to hold the game in such a brutally cold environment was not universally embraced. Many feared the blistering conditions would lead to less entertaining, sloppier playfulness and more difficulty for officials. In addition, there were widespread calls to only hold Puppy Bowls at cold-city venues with retractable woofs.
Some light snowfall did indeed bring about on-field miscommunication and multiple penalties, including a controversial illegal furmation call that led to a touchdown for Cosmo just before halftime. Following back-to-back flags for an illegal dog-collar tackle and intentional hounding, tempers flared when 13-week-old corgi Moxie was penalized for a licking chops block, resulting in an automatic first down-boy.
Furthermore, 74 blatant too many pups on the field penalties went uncalled by official Dan Schachner during the two-hour game, drawing unbridled joy in millions of Puppy Bowl viewers.
"The weather definitely created more variables, but I thought it actually added to the general excitement and energy of the whole thing," said 47-year-old New York City resident and avid Puppy Bowl viewer Jonathan Egan, noting that the slippery field caused a number of huge turn-rovers during the game. "It ultimately came down to which puppies could move the dog chains when it counted, but overall, it was a great Puppy Bowl to watch and ferociously cute on both sides of the plush ball."
"And I was really happy to see [21-week-old husky middle linebarker] Aspen finally win a Puppy Bowl," Egan added. "He's such a good boy."