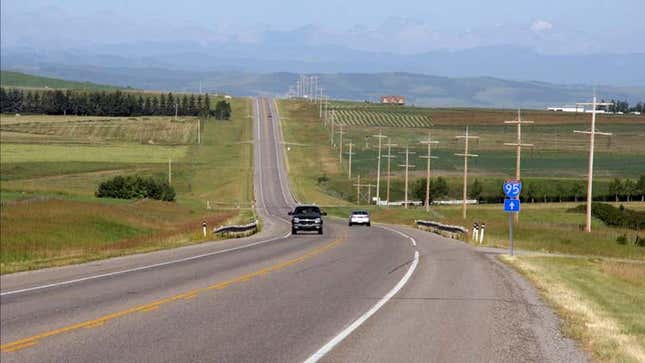 NEW HAVEN, CT—Road oncologists at Yale-New Haven Hospital held a press conference Tuesday to announce that Interstate 95, the main conduit running along the country's Eastern Seaboard, had begun treatment for stage III highway cancer, an advanced and often terminal form of the disease.

According to doctors, the 1,900-mile roadway, which had been battling illness since late September, was diagnosed after Connecticut motorists reported having to stop for a strange, previously unseen bump, later determined to be an 8-mile-long tumor lodged in its southbound shoulder.
"When we analyzed the asphalt biopsy, all of our worst suspicions were confirmed—classic case of late-stage highway cancer," said Dr. Angela Everett, the 15-state thoroughfare's primary physician. "But since the tumor was too large to dig out with a backhoe, we elected to try an aggressive combination of freeway radiation and expressway chemotherapy."
"Now, of course with any interstate cancer there is no guarantee of survival, but I promise we're doing everything we possibly can," Everett continued, urging drivers to be patient with the road's increasingly faint signage, slower speeds, and deep potholes where IV drips have been attached.
Since beginning treatment, I-95 has reportedly undergone a rapid physical transformation, most visibly a drop from eight lanes to two. Commuters have also noticed the steady disappearance of roadside foliage, a byproduct of the powerful drugs coursing through its metropolitan arteries.
However, while supporters expect the vast transit network to put up a strong fight, the prognosis is not optimistic. With the exception of notable successes like California's I-405—which celebrates 10 years in remission this December—Department of Transportation figures show that highway cancer is by far the nation's biggest turnpike killer, claiming an estimated 200 toll roads a year.
"It breaks my heart because I know that 95 wants to be out there doing what it loves: taking people from point A to point B between Florida and Maine," said DOT secretary Ray LaHood, who added that he had become close friends with the road since taking office in 2009. "I feel partially responsible, too, because if I had stayed on its case about getting regular screenings we probably could have caught this thing earlier."
"I just can't imagine a world without I-95 and everything it brings to America's transportation system," continued LaHood, echoing the sentiments of the hundreds of bridges and overpasses that have vowed to stay by its side "until the end."
Upon hearing the news of the highway's diagnosis, regular I-95 commuters expressed shock that such a serious disease could befall the normally vibrant and well maintained road.
"All of this is kind of hard to swallow, I mean. I just drove on 95 yesterday and it looked totally fine," said 43-year-old event planner Henry Fitzsimmons. "Just goes to show how incredibly fragile infrastructure can be. It's times like this that make you pull over and appreciate every precious moment you have."
"I just hope it stays brave and gets the care it needs so it can return to its old self as soon as possible," he added.
At press time, state lawmakers were in the process of requesting emergency funding from the federal government, as the expensive highway cancer treatments are not covered by I-95's health insurance.