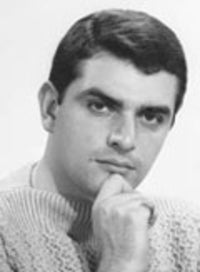 Have you seen the dancing baby yet? It has got to be the funniest thing I've ever seen! It's a computerized baby, and it dances! Curious as to what all the hoopla was about, I had my intern download it for me, and I was hooked! Sometimes, if no one else is around, I'll do a little dance along with it. If you haven't seen it yet, you should throw on your cyber-bathing suit ASAP and get surfing… on the Net!
Item! Old Blue Eyes is now Old Shut Eyes! That's right, the Chairman Of The Board, Frank Sinatra, has resigned, leaving nothing but memories and a scant 125 albums worth of great, great songs. I know that everyone will always remember him for tunes like "New York, New York," "Chicago," "L.A. Is My Lady," "Grand Rapids (You're A Dame)" and other classic songs named after cities, but I'll always remember him for his warm rendition of the Simon & Garfunkel classic "Mrs. Robinson." He really breathed new life into that song. Now, if only someone would breathe life into his cold, dead lungs so that he could sing again!
Also in the sad, tragic death department, Phil Hartman was killed recently by his wife. I don't know any other details besides what I just told you. In fact, I am embarrassed to say this, but despite the fact that his name is very familiar, I cannot place his face at all. Could someone help me out with this? Who is this Phil Hartman, and what did he play, in movies or television? Even if I can't find out, it's still sad. It's always sad when someone dies.
Item! Harrison Ford is the luckiest man in the world–he gets to romance delightful Dante's Peak star Anne Hach! The new film A Week In The Wilderness features them as a pair of hard-headed opposites who have to work together after crashing on a deserted island. Of course, by the end of the movie, they fall for each other, conjuring up that old Bogey-and-Bacall magic. What I wouldn't give to be the one stepping out for a night in Casablanca with dreamy Anne! Harrison, you are one lucky, lucky fella.
This summer is shaping up to be a real scorcher. I'd better break out the tank top!
Item! Did anyone like that last Seinfeld episode? Talk about a stinker. It stank! I mean, what a downer of an episode. But you know what? I already miss it. I just hope the reruns will be enough to tide me over for the rest of my life.
Has anyone out there ever pulled a hamstring? I did while playing badminton the other day, and, boy, does it smart!
Item! One of my more reliable sources tells me that none other than Matthew Broderick is slated to appear in a remake of his classic 1986 film Ferris Bueller's Day Off. Only this time, he's the principal, and he's up against a young version of himself! The dilemma: Does he go all hardnosed on the kid, or does he go easy, remembering his own crazy youth? It should be the kind of magic we haven't seen from Broderick since the original. Look for cameos by Gordon Jump, Night Court's Markie Post and the guy who played Cameron in the original. I can't wait for that one!
With songs like "Summer Of '69" and "Straight From The Heart," is it any wonder that Bryan Adams has captured America's fancy? Did you know that Adams, like Aldo Nova, is a Canadian? G'day, Bryan, eh?
I must confess, it's been nearly 10 years since NBC took it off the air, but I still miss 227. Saturday nights just haven't been the same without it. Will someone please give Marla Gibbs her own sitcom? She's too big a talent to waste!
Robert Downey Jr., like his dad Morton Downey Jr., just can't seem to stay out of trouble. Someone in the know tells me that Robert had recently been jailed for an abundance of unpaid parking tickets and littering fines. I know that Hollywood stars offer us dreams and thrills, and, sure, they should get some perks for the countless hours of movie magic they provide, but no one, not even Robert Downey Jr., is above the law.
Hey, Harveyheads, in case you're aching for a dose of me between columns, I have just the thing for you. This Saturday, I'll be on WGBE, Oldies 740 on your AM dial, between 2 and 3 in the afternoon. I'll be spinning my favorite sounds from the '50s, '60s and '70s, as well as bringing you the latest scoop from Tinseltown. If you can't get to a radio, ask a friend to tape it for you. And, if you don't have a friend who can tape it, don't worry: You can always find me here, doing what I love to do… bringing you the news from the Dream Capital Of The World–Hollywood, USA!
Jackie Harvey graduated from Viterbo University with a degree in English literature in 1990. After honing his writing and copy-editing skills at The Sunshine Shopper, he became The Onion's entertainment columnist in 1994, replacing the outgoing Archie "Arch" Danielson. Currently, Harvey writes his regular column, "The Outside Scoop," as well as his blog, "Harveywood!"