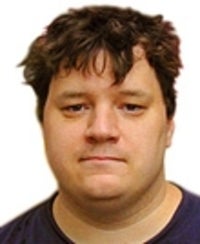 I'm a busy, on-the-go kind of guy who doesn't always have time for a fancy sit-down meal. So about 10 or 11 times a week, it's McDonald's, Burger King, Wendy's, Hardee's, Arby's, Rax, Jack In The Box, or White Castle for me.
As a frequent patron of burger chains, I'm sad to say that I am not only sick, but also tired of the same old hamburger. Those frozen-patty, cookie-cutter burgers you get from the big boys may be fine for amateurs, but I, in my burger maturity, hunger for something more.
You'd think the nation that conquered space could produce a juicy, all-beef burger made fast with fresh ingredients. It just seems like it would stand to reason. And yet I patronize chain after chain with no such burger in sight.
Why don't any of the major chains offer a Southwest Salsaburger smothered in zesty picante sauce and macaroni and cheese? Or a Deluxe Mushroom 'N' Swiss Burger topped with breaded bacon? It seems like someone out there ought to. After all, I've outgrown that kid stuff. I'm after some real food: real food for my real appetite, one might say.
Is some sort of "Honolulu Burger," with pineapple, monterey jack cheese, and three kinds of pork, the kind of thing that can't be managed by a modern restaurant chain? If so, what a sad state of affairs.
I'm not exactly sure how to define my condition, but for lack of a better term, I've got what you might call "the burger blahs."
Am I asking too much to want "Thik-Kut" homestyle fries with the skins still on them? Don't go looking to McDonald's for that level of product. They mechanically remove the potato skins well in advance of the frying process–or so I'm told. (It might constitute libel to claim out-and-out that that's what happens to the potatoes, so I'll make the distinction clear.)
I am a grown-up! I don't want to seem stupid here, people, but where is the corresponding grown-up burger? I beseech you, restaurateurs of the world, alleviate my plight!
I drive a Cavalier, you know–I make a very nice living. I don't mind shelling out extra money for a hearty seven-grain bun or kaiser roll, baked fresh on the premises that morning. I am prepared to have the cost of sweet, thick-sliced Vidalia onions passed on to me. And how about a patty formed by human hands, not pressed in some machine? Such a burger would undoubtedly cost a little extra, but one bite would convince me it was worth it.
In short, I am not only ready and able, but deeply wanting, to cross over into real burger country. I need only be shown the way.