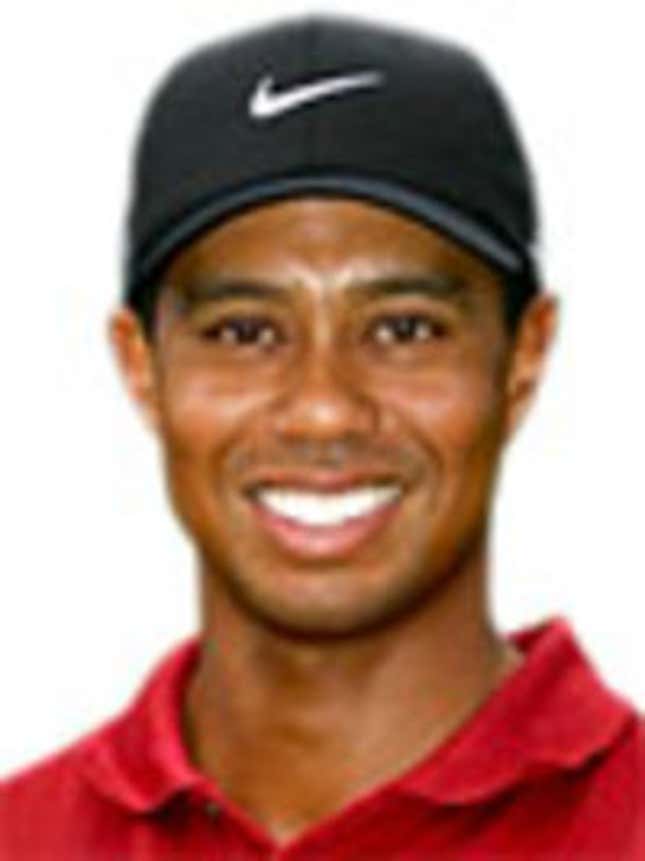 My specially designed Tiger Woods TAG Heuer watch read 11:45 a.m. yesterday when I got back from the practice range. After washing up and shaving with my favorite Tiger Woods Gillette Champions razor and getting in a few rounds of EA Sports' Tiger Woods PGA Tour 08, I picked up the copy of Golf Digest on my coffee table—the one with my ad for TLC Laser Eye Centers. What caught my attention, however, was an advertisement on the adjoining page for your product, Pine-Sol.
Call me crazy, but it looks like you're lacking a big-time celebrity endorser. Yes, you have that sassy fat black woman who appears in commercials and print ads, but she's hardly a celebrity. I'm talking about someone with name recognition. Maybe even someone who's won, say, 64 professional golf tournaments, 13 major championships, and has been named PGA Tour Player of the Year nine times? Your lady may be funny, but is she the most marketable athlete in the world with a supermodel wife, a new baby girl, millions in the bank, multiracial appeal, and a great goddamn smile?
No.
Even now, I just can't stop thinking about how foolish you've been for never approaching me about endorsing Pine-Sol. Is it the money that concerns you? Because let me tell you something: When you are dealing with a Tiger Woods endorsement, money should be the last thing on your mind. What you should be thinking is how, with my face on every container, we are going to move more Pine-Sol than you ever thought possible.
Look, when you get Tiger Woods, you're getting Tiger Woods—the guy who made it cool for kids to want to play golf, for Christ's sake.
Bottom line, you need me, and I'm ready to break into the domestic-products arena. Despite my work with Accenture, many people still think of me as cold and calculated. A couple of Pine-Sol ads where my mom shows me how easy it is to clean my bathroom ("Oh Mom, you're embarrassing me!"—you know, that kind of crap) and we're all set.
But if you don't move on this fast, tomorrow I'm all over the TV with my new Tiger Woods–strength Lysol Wipes. Think about it.
Plain and simple, I would do an excellent job endorsing Pine-Sol. You know it, I know it, the makers of the all-new Gatorade Tiger most certainly know it. A high quality, all-purpose cleaner such as Pine-Sol deserves an endorser who is an ultra competitor—someone who will go to the mat for you no matter what. No way I'm going to half-ass it like Roger Federer or David Beckham would.
See, Tiger Woods likes to get his hands dirty. As your front man, I would work day and night with your scientists to create an all-purpose cleaning formula worthy of the Tiger Woods name. We'll call it "Tiger-Sol" and it will come in a variety of pleasing scents, including Tiger-Berry, Tiger-Apple, Tiger-Peach, Lemon-Tiger—you get the picture. And when Tiger-Sol hits stores, those other bush-league cleaners will have no business even being on the same shelves, let alone trying to make the same bathroom sink sparkle.
I can do it all. Humorous commercials where I'm putting for the U.S. Open championship in my bathtub and I notice there's grime between my ball and the drain that will force the putt off-line. How do I get rid of the grime? Pine-Sol. I sink the putt, the gallery in my bathroom goes crazy, I do one of my signature fist pumps, and you just sold 3 million bottles of Pine-Sol.
Then we move into more artsy commercials where I'm hitting golf balls in slow motion in the rain and my voice-over comes in and says, "Pine-Sol." And for prime-time TV, we'll do one of those mass-appeal commercials where I clean a kitchen with Asian, white, and black kids. We all laugh and start splashing each other, and I get hit on the cheek with a big wad of soap suds. I make my upset face and there's a pause, because all the kids think I'm going to get angry, but I don't. I laugh it off because I'm Tiger Woods and America loves me.
Within a week you'll have kids demanding their parents buy Pine-Sol because Tiger Woods just made cleaning the house awesome. They'll associate your product with 400-yard drives, and being handsome, fit, and effortlessly charming. Then they're hooked on Pine-Sol from the age of 5 until the day they die.
In the end, this is all very simple. Basically, what you have to ask yourself, Pine-Sol, is do you want to make half a billion dollars today or not? That's it. And if there's still any doubt in your mind, think about this: If I've convinced an entire populace that I drive a fucking Buick, I can sure as shit sell a bottle of Pine-Sol.