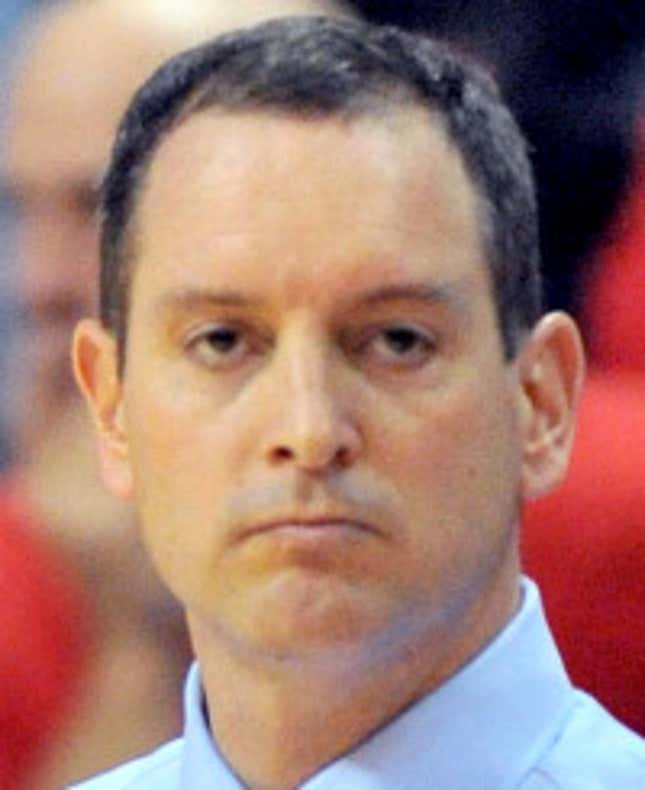 In the last 24 hours, I've been getting a lot of heat for a videotape that shows me physically assaulting my players during practice and calling them gay slurs. It's caused a media firestorm, with school officials and the Governor of New Jersey calling for my resignation, and former and current players coming forward to describe my methods as harsh and largely ineffective.
Um, hello? Ineffective? Am I the only one around here who remembers a certain January night one year ago when we upset UConn?
I understand that I purposely shoved numerous players and called them faggots and generally humiliated them in front of their peers, but is everyone just going to sit back and pretend that 15 months ago we didn't beat a highly ranked UConn basketball team by seven points on our way to a 14-18 season? Or is it up to me for some reason to remind the Rutgers athletic department that we completely shut down UConn's top scorer, Jeremy Lamb?
You know, that's just the way it is, I suppose. You whip a few basketballs at a couple of players' heads and all of a sudden you never even held a potent UConn offense to just 37 percent shooting.
Because, I'll tell you, with the way everyone's screaming and shouting about how they entrusted their 18-year-old kids with someone who consistently threw despicable, childish temper tantrums and who literally kicked their sons in the backs as hard as he possibly could, it would seem as if I'm the only guy on planet earth right now who remembers that we made 81 percent of our free throws in a pretty impressive victory.
On January 7, 2012, the UConn offense didn't make a single shot outside the paint for the majority of the first half against who? Oh, that's right: The Rutgers Scarlet Knights. Ring a bell? It was a pretty big momentum boost for us that year.
Sure, during practices I routinely grabbed kids by their jerseys and dragged them around the court while I called them fucking fairies, but need I remind you that UConn was ranked #8 in the country at the time? Eighth. We were unranked and pretty inexperienced, so, yeah, you could say it was a pretty big victory for us, to say the least. And if no one else is going to say it, I will: That was a Husky team led by three-time national championship–winning coach Jim Calhoun. But I guess that just slipped everyone's minds, huh? Sure it did. Because, hey, it's not like we were a team of scrappy underdogs toppling a perennial Big East powerhouse or anything. Nope, it's not like that happened.
You people are fucked up.
The problem as I see it is that we live in a "what have you done for me lately" culture. At this very second, you're watching raw video footage of me shoving children in the chest and treating them with absolutely no respect. So, you think I'm this abusive madman who is willing to threaten his players' scholarship eligibility in order to get them to perform on the basketball court. You're not even associating me with instituting a motion offense that scored nearly 70 points against—if I do say so myself—a pretty stingy UConn defense. Well, I remember drilling that offense over and over in practice days before the game. I also remember violently grabbing players by their faces and arms and physically doing things to them that could only be considered assault and battery.
But that's not what this is about. This is about a great win against a great team with a storied program. The rest of it is just noise.