It seems like all my friends have been getting engaged recently, and I'm truly happy for them—I really am. But I have to admit, when that call comes and they ask me to be in the wedding party, the joy is a little bittersweet. I hear the excitement in their voices and do my best to share in it and be supportive, but in those moments, I can't help but think about myself and get sort of heartsick. I guess I'm just your classic case of always the bridesmaid, never the little ring bearer boy.
At this point, it's happened so many times that I'm really starting to wonder, will it ever be me walking down that aisle holding a little satin pillow?
Maybe it's a sappy thing to say, but I desperately want that special moment. I want my mom and dad and everyone in the pews looking at me and saying "aww" as I totter hesitantly down the aisle with my hair parted to one side and my little boutonniere barely fastened to my jacket. I can picture it now: Every eye in the place would be on me and the big, bashful smile on my face.
It's depressing to think about, but I may never hear the priest say to me, "You did a great job, bud. High-five."

Admittedly, I've looked on with a little bit of jealousy as so many of my best friends had their perfect ceremony, hoping that someday I'd get my chance to meander slowly toward that altar in a pair of tiny patent-leather shoes just like I've always dreamed. I came close a few times when I was younger, but now I've been a bridesmaid in six weddings—six!—and I've still never been the little ring bearer boy.
Going to all these weddings and putting on a happy face as someone else wears that size 4T seersucker suit can be difficult. I can't help but wonder, will my dad ever get the chance to gently nudge me down the last 10 feet of the aisle because I'm too shy to move and can't remember what I'm supposed to be doing? At the reception, will he ever get to see me beaming with pride as I spin around and around on the dance floor and then lie wiggling on my belly for the entire duration of the Chicken Dance? After all these years, will I ever be the one to fall asleep across two banquet chairs and get carried to the car?
G/O Media may get a commission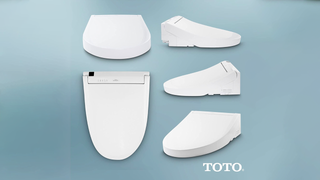 44% off
Toto Washlet Electronic Bidet Toilet Seat
It's depressing to think about, but I may never hear the priest say to me, "You did a great job, bud. High-five."
Call me a dreamer, but even after wearing all those frumpy bridesmaid's dresses time and time again I still haven't lost hope. It's something I've thought about and wanted for so long. I still believe that someday—one magical day that's hopefully not too far away—I'll be the one with that joyful glimmer in my eye, crawling under the head table and then running mischievously around the reception area during the best man's speech until someone finally corrals me near the gift table!
Oh, look at me, getting caught up in a fantasy again.
But how can I not think about it? Every time I open my mailbox and see a "save the date" card from one of my close friends, I get the same sinking feeling. Sure, I'll be in the wedding, but I'll be standing several feet to the side of the altar rather than sitting on my mom's lap playing with the program. And when the recessional plays, I'll be smiling and clapping rather than hiding behind the folds of my grandma's coat.
My college roommate Lauren recently got married and asked me to be her maid of honor. I was happy for her, obviously, but as I stood there in the church, just a few feet away from her nephew as he anxiously sucked on his sleeve and looked around for his parents, my heart just broke. He was about to have one of the best days of his life, and it was all I could do not to break down in tears thinking that I might never get that chance.
I guess there is one silver lining, though. When someone finally does get down on one knee to get on eye level with me and asks me to be their ring bearer, I know I'll be ready.