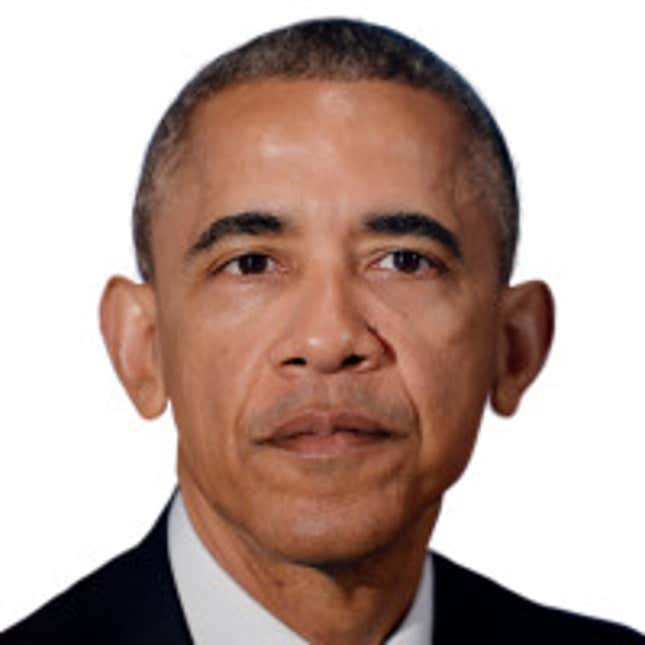 Well, here we are. Less than two weeks left in my reelection bid, and the race is locked in a dead heat. Though I assumed it would be a somewhat close election, I guess I'd be lying if I said I thought that with 14 days to go I'd be in such a vulnerable position. Because, when it comes down to it, my opponent is Mitt Romney. I'm not exactly running against Dwight D. Eisenhower or Abraham Lincoln or even George H.W. Bush here, you know? I'm running against Mitt Romney—a guy who has made so many conflicting statements on so many different issues that the thought of losing to someone like that leaves me severely depressed, and makes me question if I've maybe wasted my entire life. Truth be told, if I do lose on Nov. 6, I think the odds are pretty good that I'll kill myself.
This Week's Most Viral News: September 29, 2023
Yeah, I'll definitely commit suicide if I lose the presidency to Mitt Romney.
I think that would be the best, and even the healthiest, thing for me both personally and professionally. The prospect of welcoming President-elect Romney to the White House, or watching Mitt Romney take the oath of office, or continuing my life as a president, husband, and father who lost the most important position in the entire world to the guy who ran the Salt Lake City Olympics just doesn't seem very appealing to me. In fact, it makes me wish I were dead.
The question is: Do I even deserve to live if I can't beat Mitt Romney? And I don't think I do, really. That's why I'll more than likely be packing a little gun with me on election night. Because the sooner I can end it all, the less pain I'll feel.
I mean, wouldn't you kill yourself if the U.S. population felt that Mitt Romney—a man who basically wrote off half the American population as entitled victims incapable of taking care of themselves—was a more viable leader than you? Wouldn't you take your own life if a massive segment of the citizenry basically said, "You know what, you ended the war in Iraq, you passed health care reform, you saved the auto industry, you repealed Don't Ask, Don't Tell, you had 32 straight months of job creation, and you killed Osama bin Laden, but sorry, I'm going with Romney"?
Of course you would. Just reading that sentence makes me want to reach for my pen right now and jab myself in the throat over and over and over again. Hell, I considered killing myself last week when Colorado and Virginia suddenly became a toss up. The first African-American president in the history of the United States loses his reelection bid to none other than…Mitt Romney. Mitt fucking Romney. The only way I could look at myself in the mirror if that happened would be if there were a cocked shotgun lodged in my mouth.
I hope you don't think I'm overreacting. In fact, I think my attitude is just about right. Mitt Romney spent the past year blaming me for setting a withdrawal date for our troops to leave Afghanistan, but then in our last debate he not only set a withdrawal date himself, but picked one that was identical to mine—2014. Nobody seems to give a fuck about that. And that must mean nobody really gives a fuck about me. It's like I'm living in the goddamn Twilight Zone and nothing I've done matters at all. Look, a world in which people believe Mitt Romney is a better communicator than me is a world I don't want to live in. So that's why I'll either hang myself in the Lincoln Bedroom or slit my wrists right there in the middle of the Oval Office. I haven't decided which yet.
Oh, and in case you're wondering, Michelle is totally fine with me killing myself. She's all for it. In fact, she said she'll probably kill herself too, because she doesn't want to be the wife of someone who lost to Mitt Romney. I certainly can't blame her for that. Actually, if once all the ballots are counted, it turns out that that spineless, weak-willed fuck wins the highest office in this land, I think my entire family might just gather in the Rose Garden, hold hands, take five cyanide pills—one for Bo—and go away forever.
Mitt Romney makes me want to drive a scalding hot nail into my eyeball. He's a piece of fucking dog shit who has done nothing in this world except figure out how to say things people want to hear in order to get what he wants. He's a gutless cocksucker pig fuck.
I want to be on the record saying that before I commit suicide.
Thank you, and God bless America.