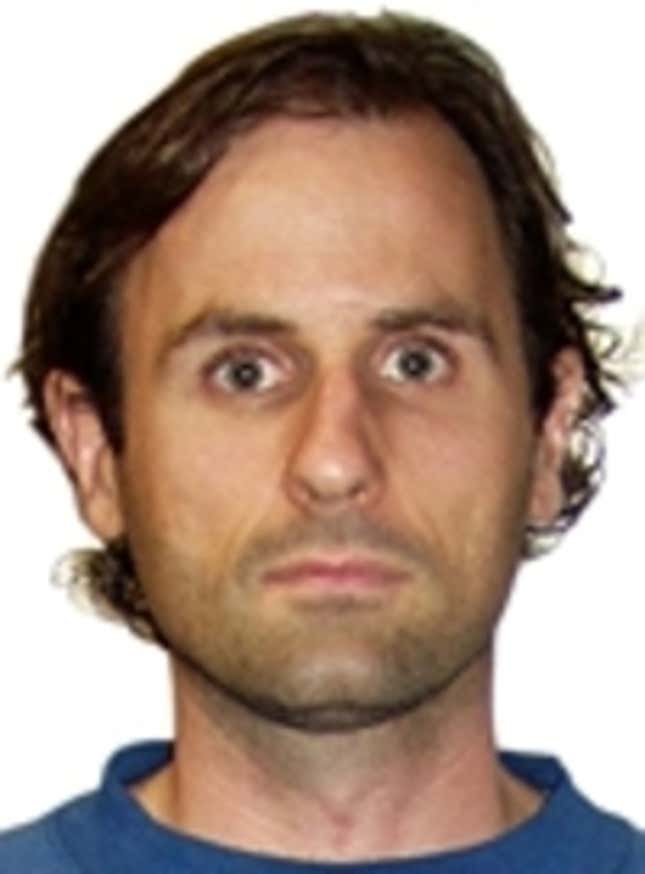 All in all, I'd say it was a robbery well done. It was in a secluded area behind the old B.F. Goodrich on the riverfront. The mask was concealing yet breatheable, the old man dropped like a stone, and his money clip yielded a cool 95 bucks and some food stamps. I didn't intend to kill him, but there were no apparent witnesses, so what the hey? Smooth and simple. The perfect crime. Nice work, Scotty.
Know what, though? I think I might head on back to that crime scene.
I mean, it's a beautiful day, the nicest day we've had in weeks. No sense in staying cooped up in this flophouse all day. True, I'm a wanted criminal, and the neighborhood will be crawling with cops, but it's just too nice a day to waste it inside watching golf and counting $95 in small bills over and over. I have as much right as anyone to go for a stroll along the riverfront and then climb through the patch of underbrush at the end of the bike path to emerge on River Street between the library and the State Farm Insurance office.
You know, it's possible that the old man's body hasn't even been discovered yet. I could pop over for a minute just to make sure he's still there, and if he is, give him another going-over. I bumped him off in a pretty remote area, and I went through his pockets so quickly that I might have missed something. He might have a few more bucks on him, maybe even a couple scratch tickets or a Denny's coupon or two. Haste makes waste, Scotty. Remember that the next time you mug somebody.
Oooh! Before I go, I should probably change out of this tracksuit—there's a big bloodstain on the left thigh. Didn't see it there before. Then again, it would mean changing into some clean clothes, and I gotta conserve on laundry this week for that big interview for the gig driving a truckload of Chinese illegals to Jersey. No one will notice. The worst thing anyone will think is that I peed myself.
On the way, I could stop at that little strip mall on Beerbohm and grab a magazine at B. Dalton. I think the new Easyrider is out. And maybe I'll stop by the Carvel and pick up a Cookie Puss. The strip mall is on that nice Officer Cordova's beat. If he's there, I'll chat him up a little and ask him if he's seen any action lately. He'll probably laugh and say, "That's kind of personal, Scotty," and I'll correct him and say, "What I meant was, have you seen the bloody aftermath of any violent street crime recently?" Then again, if Officer Cordova isn't there at that moment, maybe I'll take advantage of that and hold up the Carvel store. I bet they have a sweet drop safe.
Now I'm thinking I really should mosey on over to that crime scene.
You know, it would be pretty interesting to see how cops go about investigating a crime. I suppose that, first, they clear people from the area and secure it with that yellow tape. Then, I guess, they probably photograph the body and draw a big chalk outline around it. It's probably nothing I haven't already seen on CSI or Law & Order. Still, it would be something to watch all those cops putting in time-and-a-half and going through this meticulous procedural, all on account of something I did on a whim. It really makes you think. The thin blue line and everything.
You know what? I am gonna bop over to the crime scene. Hey, maybe I could throw the cops off the scent by telling them I saw the guy who committed the crime. I'll tell them he was about 6'1", weighed 190 pounds, had brown hair and hazel eyes, was wearing a gray tracksuit, and beat the guy to death with a truncheon he kept in his right pocket. No, wait. I'd have to change some things. I'll say this guy looked a lot like me, except he didn't have a big bloodstain on his tracksuit. Get that story straight, Scotty.
Finally, if the cops get suspicious, I'll argue that there was no reason for me to rob the guy, because he didn't have any money on him. Then I'll show them the money clip and pass it off as mine. And I'll tell them I got the stain from falling down in the meatpacking district. Then I'll offer them part of my Cookie Puss.
This is a fine idea, returning to the scene of the crime. However, I think next time I'll make sure to commit it in a prettier place, like the park. Or Florida. And I think I'll do it someplace close to where I can also pick up some foot powder and get gas. Look, there's no sense in making things any harder for myself.